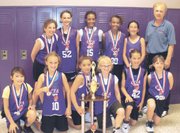 <b>One Magical Weekend</b>
It was an exciting weekend for the Braddock Road Youth Club, coach Craig Ballam and both of his Hoop Magic girls' basketball teams. Both of Ballam's U-9 and U-11 Hoop Magic teams won the BRYC AAU tournament on Sunday, June 14. Ballam is assisted by Mike Wakefield with the U-11 team.
<b>Ram Golfer Shines</b>
Alexandra Austin of Burke won the Middle Atlantic Golf Association's Junior Girls Championship on Wednesday, June 24. The rising junior at Robinson Secondary School shot a career-low round of 39-39-78 to take the title by one stroke. International Country Club of Fairfax hosted the 51st annual event.
"I made four birdies," Austin said, "but I also made four double bogeys."
Austin spoke proudly of her putting, especially several important par putts. "I made some long ones," she said.
Austin, who plays on the Robinson boys' golf team, has won twice and gained seven, top-10 finishes since 2007 on the Plantation Junior Golf Tour.
She will play in a prestigious American Junior Golf Association tournament at the Nemacolin Woodlands Resort in Farmington, Pa. on June 30-July 3. The following week, Austin will play at her home course, Springfield Golf and Country Club, in the Bobby Bowers Memorial.
<b>New Face at Braddock</b>
Lake Braddock has hired Victor Chen to succeed Kerry McMillan as the school's new girls' lacrosse coach. Chen spent the past four years as the head coach at Jefferson and before that served in the same capacity at South Lakes from 2000-06. In 2009, Lake Braddock went 3-9 and suffered a first round Patriot District tournament loss to South County. Three years ago, though, Lake Braddock was 14-2 and won a district title. McMillan leaves Braddock with a record at the school of 30-25.
<b>Grand Ole Ospreys</b>
The Old Keene Mill Ospreys, a Division 12 team in the NVSL, competed against the Long Branch Dolphins on Saturday, June 27. Though the Old Keene Mill lost, 230-172, it achieved a team record and posted several impressive swims. The Ospreys were led by the 15-18-year-old girls' 200-meter medley relay team of Isabella and Alessandra Troncoso and Jordan and Taylor Parry, which finished in 2 minutes, 12.91 seconds, eclipsing the 11-year-old record. Posting three, first-place finishes each were Sam Dallstream (13-14 boys' backstroke, butterfly and 100 medley relay) and Isabella Troncoso (15-18 girls' freestyle, backstroke and 200-medley relay). Other first-place finishers for the Ospreys were Skyla Davidson and Jack Tyburski in the freestyle, Stephanie Chewning and Erin O'Hara in the backstroke, Freddie DeWeese, Jane Kernan and Alessandra Troncoso in the breaststroke and Kira Flinn and Jordan Parry in the butterfly. The U-8 girls', 13-14 boys', 15-18 girls', and mixed-age girls' relay teams rounded out the first-place finishes.