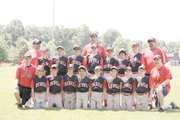 <b>Youth Team Wins Tournament</b>
The Arlington Rebels, a 10U Babe Ruth All-Star team, won the championship last weekend in the Greater Washington Area Baseball Tournament hosted by the Rockville Baseball Association. The Rebels defeated Rockville in the championship game, 5-3. Gavin Anderson and Michael Lowen pitched three innings each for the Rebels. In the semifinal game, the Rebels defeated the DC Little League All-Stars, 11-3, with Ethan Heckler and Jake Karton pitching three strong innings apiece. Hitting stars for the Rebels over the weekend included Michael Lowen, who went 13 for 14 (.929), Ethan Heckler, 10 for 14 (.714); Andy Belilos, 8 for 12 (.667); and Andrew Keane, 6 for 9 (.667).
<b>Swim Results</b>
Here's a recap of contributed reports on what happened around the area during week two of the NVSL season.
In NVSL action this past Saturday, the <b>Overlee</b> Flying Fish hit the road and claimed their 18th consecutive dual meet victory with a 279-123 win over host Fairfax Station. This improves Overlee's record to 2-0 for the summer. The Overlee swimmers used 28 victories, 26 second-place finishes, and 22 third-place finishes in the 38 individual events to build an insurmountable 239-103 lead going into the relays. Overlee added victories in eight of 12 relays. The individual events included eight Overlee sweeps, six double winners, and 16 single event winners.
<b>Donaldson Run</b> defeated Oakton this past weekend, 204.5-197.5. Double winners included Mark Love, Max Fish, Ellie Belilos, Kate Rita, Bryan Meade, Anastasia Gustafson, and Maren Taylor.
Division 8 <b>Dominion Hills</b> Pool won their first meet of the season agains Commonwealth Swim Club in Fairfax with of score of 239 to 154. The meet was at Commonwealth Swim Club. Double 1st place winners for Dominion Hills were: Kara Fox, Luke Hepp, Andrea Oaxaca, and Abby Young.
To have a team's results published in print or online, contact sports editor Mark Giannotto at mgiannotto@connectionnewspapers.com.