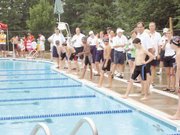 School may be out for the summer, but Saturday mornings at the pool can often resemble recess with youngsters jumping up and down, loud voices screaming and cheering each other on and, most importantly, having fun.
Little Rocky Run's swim team is able to strike a balance between being competitive and having fun. The team has practices and meets, but it also plans several social events throughout the summer. Some of these include laser tag, pep rallies, doughnut day, spaghetti dinners, family night and a pancake breakfast on team picture day.
"The most important thing about summer swimming is that it should be fun," head coach Beth Bedell said. "Not an over-the-top, competitive thing."
Little Rocky Run competes in Division 1 of the Northern Virginia Swim League, which is comprised of more than 15,000 children that are split off into 102 teams. From there, a predetermined formula separates the teams into 17 divisions in order to promote competition and fairness.
In the toughest of all 17 divisions, the stiff competition was evident from the outset during Little Rocky Run's opening meet of the season, Saturday, June 20 against Chesterbrook, as the Stingrays suffered a 246-96 loss.
<b>THE DECK</b> scene, at first, could be deceiving -- the sharp whistle and hushes bring a sense of calm right before the start. The swimmers are focused while listening to pre-race instructions. But once the horn blows, the splashes and cheers start.
Youngsters with faces painted various shades of blue and white are jumping up and down. Clapping can be heard. Homemade signs motivating the team line the fence. Parents are just as happy as the children, cheering them on. All eyes are focused on the wall and necks are craned to try to see who will finish first. But when it's all over, the swimmers never forget good sportsmanship, as opponents shake hands, get out and get ready to cheer for their respective teammates.
Bedell said that the swim team holds a special place in the neighborhood and that being a Stingray is important. Youngsters keep coming back to the team because they have a sense of pride in being a Stingray.
It's something that can bring children of all ages and abilities together, whether they are six and just learning to swim or they're 15 and have been on the team for years. Some may swim year-round and love to compete, while others simply enjoy the social atmosphere and fun nature of being on the team.
<b>BUT WHAT</b> unites them all is the fact that they describe swimming as fun.
"It's fun to do cheers and swim with friends," said 11-year-old Michael Marrow, who's been on the team since he was 5. Marrow said that he looks forward to swimming a lot of strokes and winning ribbons.
Part of what makes the team fun is that swimmers are always striving to do their best.
"It's challenging at meets to make it to the Saturday ones," said Kylie Kiefaber, 7, who's enjoying her third year on the team.
Sometimes, the swimmers need outside motivation, especially the older ones who may not like getting up early every day. Bedell reminds them of how short the season is and how few days they have left.