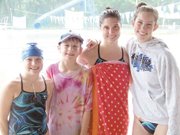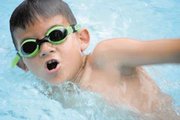 Shannon Silsby considers herself a little too young to remember every detail, but when her family moved to Chantilly from Australia around the time she was 5, there was a desire among the entire clan to become associated with those the three Silsby children would attend school with that fall.
So the idea came about of frequenting Brookfield Swim Club, the neighborhood swimming pool that was closest to the Silsby's home. There, Shannon Silsby became enamored with the family-style atmosphere -- so much so that almost 12 years later she's still enjoying every minute as a Breaker.
And this summer will be unlike any of the previous ones for Silsby, who, along with her friend, Seton High School graduate and Chantilly resident Mary Kate Kenna, will serve as co-assistant coaches as well as performing their usual duties of, you know, swimming.
"We have to be in the water with them a lot," said Silsby, who will begin her senior year at Chantilly this fall. "My sister coached and had so much fun with it, so I thought it would be a good idea."
Kenna said that she's been swimming at Brookfield since she was 2 and cited the Friday night rituals of setting up the pool, pep rallies and making posters as her favorite parts of the summer swim season.
"I like to go crazy with that stuff," added Brookfield's Daniel Richter. "If it's 'Blue Day,' I'll dye my hair blue."
<b>IN THE 102-TEAM</b> Northern Virginia Swim League, approximately 15,000 swimmers take to area pools each summer with two objectives: swim competitively and have fun. Usually the latter trumps the former in terms of importance.
Among the NVSL's 17 divisions, each is separates by a complex evaluation system that's used to promote competition and fairness. Brookfield, at Division 7, sits right in the middle of the pack. And on Saturday, June 20 for the season-opening meet against the Sideburn Run Sharks, Brookfield suffered a 193-153 loss.
In defeat, several outstanding efforts were still turned in. Double-event winners for Brookfield included Kenna, Silsby and Stephanie Proctor, while other first-place times were filed by Ryan Brault, Joseph Kenna, Anna Kenna, R.J. Kenna, Tanner Johnson, James Laing, Ava Saylor and William Schulte.
Though most relays were nixed because of inclement weather toward the end of the meet, Brookfield's U-8 boys' relay team of R.J. Kenna, David Schulte, Andrew Uncles and Brault had enough time to snatch a first-place finish. Brookfield will travel to face Fairfax Club Estates for its next meet on Saturday at 9 a.m.
<b>FOR SILSBY</b> and many other high school swimmers, the summer season takes on a different meaning than what they do within any sort of district or region. The summer, most say, is about having fun with their friends, cheering and enjoying the just-stay-loose atmosphere.
It's also a leadership situation unlike any that these swimmers encounter at the high school level. While seniors and freshmen are unlikely to become entangled in the same social circles, there's at least some level of familiarity when it comes to conversations about swimming.
But summer swim provides the only situation where a 17-year-old and a 6-year-old compete on the same platform within minutes of each other. For athletes like Silsby and Kenna, this presents the challenge of having to focus on their own performance while having an army of little ones to look after, too.
"It's very strange," joked one of Kenna's younger siblings, Anna, who said that her sister's new responsibilities have been a bit difficult to adjust to. "It's weird."
Both Silsby and Kenna remained unaffected by the extra responsibilities, though.
"It's fun because I love swimming," Kenna said, "… and I love helping little kids, too."