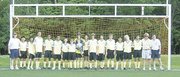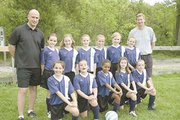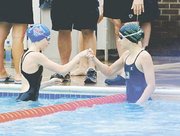 <b>Riptide Rips Piranhas</b>
For its first meet of the season, the Virginia Run Riptide set 39 personal-best marks during a 231-171 win over the Pinecrest Piranhas this past Saturday, June 20. The Riptide also won eight relay events to help with the victory. Didi Pace (9-10-year-old girls' 50-meter breaststroke and butterfly), Daniel Orcutt (9-10 boys' 50 backstroke and fly), Morgan Tweddle (11-12 girls' 50 free and back), Patrick Kearney (11-12 boys' 50 free and breast), Serena Emanuel (13-14 girls' 50 breast and fly), Matt Glowacki (13-14 boys' back and fly), Tat Duchak (15-18 girls' 50 breast and fly) and Sierra Higinbotham (15-18 girls' 50 back and free) all won two events, while Joe Clancy (U-8 boys' 25 free), Jack Clancy (11-12 boys' 50 back), Chloe Hicks (9-10 girls' 50 free), Ryan Tennille (U-8 boys' 25 breast), Kyle Tennille (9-10 boys' 50 breast), Abby Sherman (9-10 girls' 50 back), Erin Steen (11-12 girls' 50 breast), Maggie Blondin (13-14 girls' back), Mo Lacey (15-18 girls' 50 free) and Marissa Coughlin (15-18 girls' 50 free).
<b>Sully Station Drops Opener</b>
Despite a strong effort, Sully Station dropped its first Northern Virginia Swim League meet of the season, 204-198, to Highpoint on Saturday, June 20. Elise Mozeleski, Dominic Huffman, Maddie Ward, Brandon Fiala, Megan Hickey and Jake Humphrey all finished first in freestyle, while Payton Moore, Carl Gerland, Collin Fiala, Michael McPherson, Zoe Hemmer and Richard Xue all took first in the backstroke. In the breaststroke, Moore, Huffman, Nicholas Render, Brandon Fiala and C.J. Fiala took first-place honors. Carl Gerland, McPherson, Hemmer and C.J. Fiala each walked away with butterfly wins.
In the relays, Sully Station's 9-10-year-old boys' 100-meter relay teams of William Dzubak, Arun Maran, Carl Gerland and Huffman took first, as did the 11-12 boys' 100 medley team of Collin Fiala, Render, McPherson and Jack Tyskowski. The 13-14 boys' 100 medley team of McPherson, Michael Smith, Brandon Fiala and Austin Figueroa took first along with the 13-14 girls' 100 medley relay team of Hemmer, Megan Hickey, Grace McKnight and Emily Dzubak. The 15-18 boys' 200 medley team of Humphrey, C.J. Fiala, Xue and Josh Hahn set a team record, and the mixed-age free style team of Huffman, Collin Fiala, Brandon Fiala and Humphrey took first place as well. Sully Station's next meet will be against the Fairfax Frogs at home on Saturday, June 27.
<b>The Award Goes To ...</b>
On Monday, June 15, Westfield High School held its Ninth Annual Athletic Awards Ceremony. In addition to those Bulldog teams that won Concorde District and Northern Region titles, All-District, All-Region, Washington Post All-Met, All-State and three-sport athletes were recognized. Scholar athletes for each team were honored, as were the District, Region and Virginia AAA State Coaches of the Year. The Westfield Athletic Booster Club presented $15,000 in scholarships to senior athletes. The scholarship recipients included: Peter Scanlon, Grant Bowden, Greg Callas, Ryan Williams, Chris Kearney, Kaitlin Arnsperger, Maddy Curry, Amanda O'Sullivan, Hanna Skahn and Angie Giancola.
<b>Cheerleading Camps</b>
Southwestern Youth Association cheerleading will host a series of four camps this summer, with the first starting on Tuesday, July 7. All camps will take place from 6-8 p.m. at Centre Ridge Elementary School in Centreville and cost $35. Each camper will get a free T-shirt. The first camp is scheduled for Tuesday, July 7 and Thursday, July 9; the second for Tuesday, July 14 and Thursday, July 16; the third for Tuesday, July 21 and Thursday, July 23; the fourth for Tuesday, July 28 and Thursday, July 30. All camps will feature instruction from Centreville and Westfield cheerleaders. Campers will learn high school varsity cheers, chants, dances and choreography, and there will be instruction for various stunt techniques, with more challenging stunts offered for the more experienced cheerleaders. Camps are open to girls and boys between kindergarten and eighth-grade. For more information, visit www.syasports.org. SYA is also looking for a few volunteers for younger cheerleaders. For more information, visit www.syasports.org or call 703-266-0499.