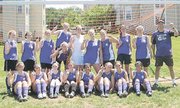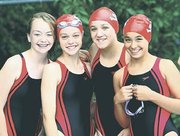 <b>Legend-ary Performance</b>
A girls' U-16 travel soccer team that competes at the Division 2 WAGS level, the McLean Youth Soccer Legend completed its spring season at 10-2-4 while playing in five tournaments across the country. Many team members contributed to the high-powered offense, which netted 38 goals. The Legend won championships at Baltimore's March Madness and the Southern Soccer Showcase and also finished first in its grouping at the Futures in Soccer Showcase. The Legend, coached by former All-American Helen Long, completed the season as a semifinalist in The Virginian Tournament against some of the best teams in the country.
<b>Pirates Drop Opener</b>
In their first Northern Virginia Swim League meet of the season, the Poplar Tree Pirates were defeated by the Shouse Village Sharks, 205-197, on Saturday, June 20. Double-event winners for the Division 9 Pirates included Nick David (U-8 boys' freestyle and backstroke), Steven Longino (9-10-year-old boys' back and fly), Lauren Hensley (11-12 boys' free and back), Nicole Baker (11-12 girls' breaststroke and butterfly), Greg Borowski (15-18 boys' free and fly) and Elizabeth Hall (15-18 girls' back and fly). Poplar Tree's next meet is scheduled for 9 a.m. on Saturday at Poplar Heights in Falls Church.
<b>Not Smoke, Fire's First</b>
The Purple Fire, a girls' U-19 soccer team representing the Chantilly Youth Association, finished in first place during the Suburban Friendship League's 2009 spring season with a record of 8-0-1 while leading the league in scoring. The Fire capped off its dream season by taking home first-place trophies in the Division I tournament by outscoring its opponents, 7-0. The Fire is coached by John Stipa and Bob Callahan.
<b>The Award Goes To ...</b>
On Monday, June 15, Westfield High School held its Ninth Annual Athletic Awards Ceremony. In addition to those Bulldog teams that won Concorde District and Northern Region titles, All-District, All-Region, Washington Post All-Met, All-State and three-sport athletes were recognized. Scholar athletes for each team were honored, as were the District, Region and Virginia AAA State Coaches of the Year. The Westfield Athletic Booster Club presented $15,000 in scholarships to senior athletes. The scholarship recipients included: Peter Scanlon, Grant Bowden, Greg Callas, Ryan Williams, Chris Kearney, Kaitlin Arnsperger, Maddy Curry, Amanda O'Sullivan, Hanna Skahn and Angie Giancola.
<b>Floor Hockey Camp</b>
Get those future professional hockey players off to a good start with floor hockey, a super place for young players with tons of energy. This camp for children ages 6-9 is aimed at developing physical skills and hand-eye coordination. The camp, which runs from July 6-10, will also focus on the fundamentals of hockey, teamwork and sportsmanship. Call 703-397-0555 to register.
<b>Players Wanted</b>
The Chantilly SC Blast, a U-14 boys' NCSL Division 4 soccer team that's professionally trained by Roberto Parada, is currently looking for talented, dedicated players born between Aug. 1, 1995 and July 31, 1996 to round out the fall roster. Those premier players interested in exploring the possibility of working out with the Blast should contact coach Edz (Edge) by email at edz@crsoftwareinc.com or by phone 703-395-6372. The Blast's goals are to strive for skill development, player enjoyment and to build a competitive team. In addition to the team's NCSL schedule, the Blast attends camps, competes in a minimum of three tournaments per year and trains indoors during the winter. Additional information on the team can be found at www.leaguelineup.com/chantillyblast.