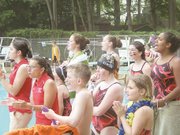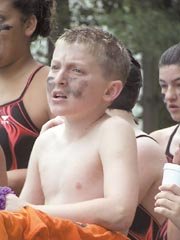 Four years ago, when he lived in Sacramento, Calif., Sam Holcomb, 11, would attend weekly swim practices, a "clean-up" he called it, or something that was required to iron out the fundamentals of each stroke.
But Holcomb's father, employed by the federal government, soon took a job transfer that brought the family to Burke and Sam Holcomb to Old Keene Mill Swim and Racquet Club, a Division 12 team in the Northern Virginia Swim League.
It's been a welcomed change, Holcomb said, on Saturday, June 20 while watching his friends and teammates swim against Springboard, a team from Springfield that Old Keene Mill eventually dropped a close decision to, 210-190.
"I had practices, but I didn't have any meets. It was nothing like this," Holcomb said. "This is a chance to see how fast you are against other people. It's kind of like a big, competitive race."
That it is. Several big, competitive races happen every weekend throughout June and July, with approximately 15,000 children split off into 102 teams. From there, a predetermined formula separates the teams into 17 divisions in order to promote competition and fairness.
But most of the NVSL's appeal comes from what happens when swimmers are not in the water. An athletic opportunity in which a 6-year-old and an 18-year-old co-exist is something rare. However, it's not uncommon to see youngsters at NVSL meets trailing their older counterparts, necks craning and eyes fixated.
<b>AS A FRESHMAN</b> on the Lake Braddock swim and dive team this past season, Alessandra Troncoso spent the evening of Feb. 8 in a dark, not-so-quiet Lee District RECenter, screaming at the top of her lungs anything that would give her team a competitive edge over West Springfield -- the Bruins' biggest rival.
At that Patriot District championship meet, Troncoso scored 32 points for her team and swam on two first-place relay teams. Her in-the-pool success was certainly welcomed, but what occurs every summer is just as special of a place in Troncoso's heart.
At Old Keene Mill, Troncoso spent part of the meet against Springboard stationed by herself opposite the starting blocks, close enough to coach the team's younger swimmers and cheer them on. Of course, she had a little fun, too. Troncoso also sported a pair of pink, oversized sunglasses that as part of a weekly dress-up theme.
"At Lake Braddock, it's all about competitive swimming," Troncoso said. "Here you get to enjoy being with your friends. It's low-key, and there's not as much pressure. You can have fun."
For some, fun didn't require a single stroke or flip-turn. West Springfield graduate Matt Weinberg donned a full headdress for the Orange Hunt Sharks' meet against Mansion House. Before Saturday's rainstorm erupted, Weinberg tried dancing around Orange Hunt to prevent the downpour.
Weinberg can no longer compete for Orange Hunt because he's too old. He just finished his freshman year at Boise State and claims that he wouldn't have missed this meet for anything. In addition to the typical season-opening activities, Orange Hunt was also dedicating this meet and its season to longtime Shark, Beth Bryan.
In addition to serving as a coach, timer and meet official, Bryan was one of Orange Hunt's most vocal supporters. Stricken with melanoma, she passed away on April 17.
It's people like Bryan, Weinberg said, that can make an activity such as summer swim so special.
"I love this team. This team's my heart," Weinberg said. "There's nothing better than summer swim because it's all about spirit."