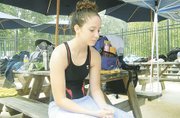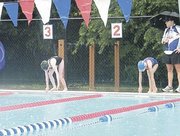 For his high school swim team, the Oakton Cougars, Bradley Phillips has performed on some of the area's biggest stages. Because of Phillips and several other talented swimmers, Oakton captured the Northern Region boys' title this past winter.
But Phillips, who won the Virginia AAA 200-yard freestyle title with a time of 1 minute, 40.62 seconds, has another passion: He spends his summers swimming for the Pinecrest Piranhas, a routine Phillips has followed since he was 6.
Phillips will be able to participate in the Northern Virginia Swim League for one more year before he will be too old, and it's something that he'll definitely miss.
"It's going to be sad when I leave," Phillips said. "I've had so many memories and made so many friends. That's my favorite part, all of the people I've met over the years.
"I remember getting disqualified as a little kid. … You know, for not being able to swim across the pool."
<b>THE PIRANHAS</b> swam against the Virginia Run Riptide on Saturday morning, June 20 but suffered a 231-171 loss. Both are Division 5 teams in the Northern Virginia Swim League, a popular summer swim organization with teams that have long histories of close-knit swim communities.
The NVSL gives swimmers ages 5-18 a chance to get in the pool and race, and it draws the same swimmers year after year as they make friends on the team. Having fun while fostering a spirit of competition can be a difficult balance for some NVSL coaches to find.
"It's tricky because we want to make it fun," said Caitlin O'Brien, one of the Piranhas' coaches, who also competed in the meet. "But at the same time, swimming is competitive and you want to win."
The Piranhas keep practices fun by having "Game Day" once a week. Conversely, Virginia Run co-coach Stasia Schlatter and her fellow coaches also go to great lengths to make sure swim practice is fun and not all work for their swimmers.
"We try to keep it fun, so we're not stressed out about winning or losing," she said. "We try to do a lot of different things at practice. We do a lot of hard stuff, but on Fridays we have 'Fun Friday.' We work hard all week and we have fun on Friday. That's one of the ways we balance it."
<b>WHILE SOME</b> swimmers like Phillips take the competitive aspect of the NVSL seriously, winning isn't the only point, or even the main one, of summer swim season. Tyler van Viersson, a junior coach with the Hiddenbrook Hurricanes, believes that there is more to swimming than winning meets.
"Pep rallies are always good," said van Viersson, whose team faced off with the Great Falls Rapids on Saturday at Hiddenbrook, suffering a 187-153 loss. "We make banners and things."
Pep rallies are a popular part of swim meets. Before meets, teams gather to make banners, practice cheers and get pumped up with their teammates.
Being with friends is another aspect of the summer swim league. Sarah Hamilton of Hiddenbrook called the friendly environment of the swim team one of the best parts.
"We're like a family," said Hamilton, 17, who remembered looking up to older swimmers on the team when she was younger. "People call it a swim family because you grow up with them and watch the kids grow up. You know everything about everyone, and they cheer you on."
Her teammate on both the Hurricanes and also the Herndon swim and dive team, van Vierrsen agreed.
"The swim team here is almost more like a community than it is a swim team," van Vierrsen said. "Everyone here is pretty close, and I like that a lot."