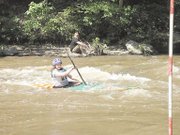 Liam Malakoff has a distinct memory of when his fascination for paddling down rapids-filled, whitewater rivers began. He was just four years old when his father, an avid canoe enthusiast, bought him and his older brother "a clunky rec boat" to learn how to canoe with.
It was a far cry from the rapids that he maneuvers down daily along the Potomac River in preparation for this summer's Junior Olympics, but a passion had been born. Malakoff quickly moved from the big canoe to a whitewater boat and by age 12, had bought his own whitewater canoe.
"I stuck with the whitewater part," said Malakoff, who along with 11-year-old sister Eliza, will be holding a Learn to Paddle fundraiser along the Potomac River near Glen Echo this Saturday to help raise money so their entire team of Junior Olympic qualifiers from the Bethesda Center of Excellence (BCE) can make it to Ottawa, Canada for the July 3-12 competition.
"We're raising money but we're also hoping that some of them will stay and join the program," said Liam of Saturday's event, which is being held in conjunction with Liam and Eliza's coach, Dana Chladek, a two-time Olympic medalist in kayaking.
Liam, 15, and Eliza, 11, are relative newcomers to the sport of whitewater slalom. In races, they must navigate their boats down a twisting course through a series of "gates" hung above flowing water. It can look like a cross between ballet and pinball, as the paddlers bounce over waves and carve graceful arcs through the poles. Liam will start his junior year at T.C. Williams this fall. Eliza just completed the sixth grade at George Washington Middle School.
Liam races in a single-seat canoe and only started racing competitively in the last year and a half. His boat looks like a kayak, but he kneels instead of sits, and uses a single-bladed canoe paddle instead of a double-ended kayak paddle. He is currently the nation's third-ranked under-16 canoe racer, and recently won a spot on the MidAtlantic Regional Slalom Team.
Eliza uses a more conventional kayak that one would see traveling along the Potomac River during a nice afternoon. The two usually train in the Feeder Canal, a set of rapids that connects the Potomac River to the C&O Canal.
"It's cool because it's not just you," said Eliza. "You're not the only force that's getting you through the river. You definitely have to work with the water."
"The real challenge and sort of the great reward of whitewater canoe or kayak is as you progress and the longer you paddle, the experience you gain allows you to read the river well," added Liam.
The Learn to Paddle workshop is scheduled to begin at 2 p.m. Saturday and Sunday this coming weekend on the Potomac River near Glen Echo, Md. The workshops are open to children ages 10-15 with instructors and the necessary equipment provided. For more information, contact Dana Chladek at dana@telecamfilms.com