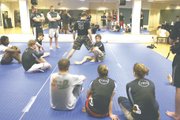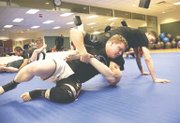 In the area for an MBA program at Georgetown University, Jan Hohberger had endured through two days filled with meetings and seminars, when last Thursday night he ventured to Arlington in search of something, anything to get his mind "out of work mode."
A German currently living in Barcelona, Spain, Hohberger was in search of somewhere to practice the submission-based sport of Brazilian jiu jitsu. Using the internet, he discovered Ryan Hall's 50/50 Brazilian Jiu Jitsu Academy.
"I looked on a forum and saw Ryan's name. He's got a pretty good reputation," said Hohberger.
Hall, a 24-year-old Bishop Ireton graduate and native Arlingtonian has twice qualified for the Abu Dhabi World Championships, the ultimate prize in professional jiu jitsu, and has more than 300 victories to his credit since turning professional in 2006.
Now, along with partner and fellow professional mixed martial arts (MMA) competitor Seph Smith, Hall has gone about relating his worldwide experiences with the rest of Arlington. Together the two opened 50/50 Brazilian Jiu Jitsu, a training program held every weeknight at the Sport & Health Club in Ballston Mall.
Each had been a part of gyms where the training became so hardcore that the program bordered on tyrannical. They had seen others where the rules were so relaxed, no real work ever got done. So Hall and Smith sought a middle ground — a gym where veterans and rookies alike could come to train hard and enjoy the fruits of their labor.
"What we're trying to do is put together a place where anyone from anywhere … can come down and really have a good time, train hard, with people ranging from absolute beginners to guys fighting in the UFC or the the top level of jiu jitsu," said Hall, whose club already has close to 70 members since beginning in December. "Pretty much make it about training more than one personality or one's sense of self."
<b>HALL WENT</b> to Gonzaga in Washington, D.C. his first two years of high school before graduating from Ireton in 2003. After a year at the Manhattan College for Electrical Engineering, he began to focus solely on jiu jitsu, turning pro in 2006. Now he trains twice a day (once in the morning and again at night with 50/50 BJJ students) every weekday and once a day on Saturdays.
He first met Smith in 2005 while training under Lloyd Irvin in Maryland, but both had dreams of one day starting their own program in their own practice space. Each were head instructors before, but the hard work and time needed to remain at the top levels of MMA, made planning such a venture next to impossible.
That all changed beginning last August, when Hall had reconstructive surgery on his left wrist and underwent arthroscopic surgery on the same elbow in a span of three months. With training halted for the next eight months, he "needed a positive outlet to do something because I was pretty much just sitting around, being depressed, watching reruns on television."
"It was something both of us had kind of wanted to do for a long time and we figured now was a good time," said Smith, who has won several regional titles in both jiu jitsu and other forms of mixed martial arts. "We just started looking around the area, putting the pieces together, and it seemed feasible. … The jiu jitsu community is small so we get a lot of referral, there's a lot of word of mouth involved, but we thought it would be harder than it actually has been."
<b>BUT WHAT SETS</b> 50/50 BJJ apart from other training programs around the area is the combination of laid back rules for participation and the presence of Hall. With a turnout generally between 15 and 25 people each night, it's not unusual to see Hall and one of his top MMA friends — such as when UFC veteran and Herndon native Aaron Riley recently showed up — rolling around side-by-side with two students who just began MMA training a few weeks earlier.
It hasn't hurt having a teacher like Hall, who recently qualified for his second consecutive Abu Dhabi World Championships by winning the North American qualifier held in Long Beach, Calif., last month. The Abu Dhabi world championships are scheduled to take place in Barcelona at the end of September, with $40,000 awarded to the winner of each weight class. Hall will participate in the 143-pound weight class.
In 2007, he was "lucky" to fight in the tournament, qualifying as an alternate. But Hall, currently a brown belt, made his presence known by defeating a world champion black belt via submission. In the process, he broke his opponent's knee with a move called a 50/50 heel hook.
Hall's philosophy as a teacher, though, is to break down moves in an almost physics-like manner, so students know exactly what they are performing. Last Thursday for instance, he spent several minutes simply explaining the correct angle to place one's foot on an opponents' knee when trying to fight off the back.
"Just look at him," said 35-year-old Fairfax resident Andy Ruffner, who weighs close to 250 pounds, of his teacher, Hall. "Brute strength has nothing to do with this. He's 150 pounds and he could kill me."
"I think that pretty much anybody can get into it," said 27-year-old Arlington resident Joel Borovsky, who was already a member of Sport & Health and picked up jiu jitsu once he heard around 50/50 BJJ. To join 50/50 BJJ, participants must become members at the Ballston Sport & Health Club before paying a monthly fee for the actual jiu jitsu club. "It's just a real tough sport, so if you're up for a challenge, this is the best place to be."