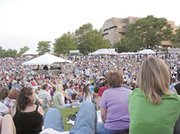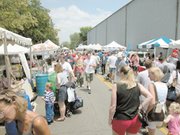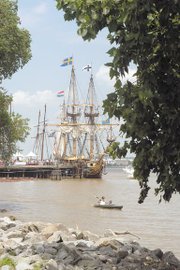 The Alexandria Red Cross Waterfront Festival, a tradition in Alexandria for the last 28 years, returns this weekend to Oronoco Bay Park. Citizens and tourists have come to enjoy food, crafts, tours, and entertainment, all while supporting the American Red Cross.
The festival will begin with the Eisenhower Avenue 5K/10K Road Race on Saturday morning, June 20. The festival gates will open at 10 a.m. and the musical acts will begin soon at 11:30 a.m. with children's hip-hop from Agent 23 Skidoo. Youngsters can also visit the Children's Harbor Tent in the center of the festival to play free games and do crafts, including making Father's Day cards.
For the fathers and the rest of the adult crowd, there will be a selection of wines as well as beer in the Wine Garden. The festival also includes several activities for the entire family, such as carnival rides, games, shopping, and a tour of the Gazela Primeiro, a Portuguese tall ship, and musical entertainment. Interactive exhibits, such as a baseball exhibit sponsored by Allstate, will also be open.
For the first time, the festival will have a free section by Robinson Terminal. The free activities will include the Fannie Mae Dog Zone, with pet safety demonstrations and a dog show. In addition, the free section will have performances on the new community stage, so even people who do not have the extra cash will still be able to enjoy some of the festivities.
On Saturday the festival will be open from 10 a.m. until 11p.m., culminating with the fireworks show. On Sunday, Father's Day, the festival will be open from 11a.m. until 5 p.m. Tickets at the gate are $15 for adults, with up to two children under 12 getting in for free with each paying adult. Additional child's tickets are $5. The proceeds from the Alexandria Waterfront Festival benefit the Alexandria Red Cross' community relief services and safety education programs. This year's fund-raising goal is $100,000.
<1b>— Erica Kicak-Vanderhoeven