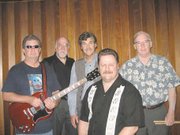 The Sock Monkeys, a local band, are playing at Grist Mill Park, 4710 Mt. Vernon Memorial Highway, on Friday, June 19. The group is a classic rock band that formed in 1999 with an eclectic influence from various artists.
The band consists of seven members; six grew up in the Alexandria area. The band's lineup includes: Art Meushaw, keyboards; Tim Hamer, vocalist; Ron Schneider, drums; Tom Powers, vocalist; Roger Bullock, bass; Ron Rodgers, lead guitarist; and Mike Robanos, who is the sound engineer. Hamer and Meushaw attended Bishop Ireton together. Bullock, Robanos, Schneider and Rodgers were students at Edison High School, but graduated in different years. Powers is originally from the Tidewater area of Virginia and attended high school there too.
Meushaw, a professional bluegrass player, recently joined the band in 2007. He played bass for the band Rainbow Special for 10 years. "The joy of seeing people have a good time and that you're playing songs we grew up with and love is the best part," Meushaw said.
Bullock and Rodgers started The Sock Monkeys in 1999. They had decided to form a band when they ran into each other after a number of years had passed. When it came to deciding on a name, "The name Sock Monkey came to mind. One thought connects to another. I visualized a sock monkey that I once had as a child. It struck me as comical. I thought it would be a good name for a band," said Rodgers.
Their sound and music tries to replicate the musicians that they grew up loving during a period characterized by many political events and social protests. "The inspiration of music came from Vietnam. It was a period of awakened social conscience," said Bullock. The Beatles, Stones, Motown, Dick Dale, The Safaris, Bob Dylan, Jimi Hendrix, Muddy Waters, Hark Williams are the musicians who have deeply influenced them. The style is an integration of '60s music, British Invasion, soul, Motown, Stax, Memphis and Detroit.
Each band member had their interest in music influenced by various sources. Ron Schneider found that his high school symphonic band teacher played a major influence with keeping his interest in music. ''He was a good influence on us and he inspired us. The symphonic band was excellent and we competed within the area. We went to Winchester for the Apple Festival and Williamsburg for other events. It was a good organization. Because of it, I stayed interested in music. My favorite musician is Leslie West."
Playing in a band requires a major time commitment. All of the members juggle work, family and other obligations. It is a balancing act. "We're all very good time managers and we have family support. Without this, it wouldn't work," said Bullock.
Since the band's first gig on Feb. 14, 1999, at the Mount Vernon Yacht Club, they have opened for Tito Puente at the Reston Festival and periodically play at JW and Friends in Springfield. They performed on Pennsylvania Avenue, just five weeks after the Sept. 11 tragedy. The group also plays for corporate events, private parties, bars and clubs.
The Sock Monkeys will be playing on Friday, June 19 at Grist Mill Park at 7:30 p.m.
More like this story