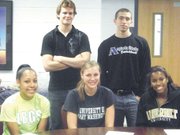 <b>More Bruins To Celebrate</b>
On Thursday afternoon, June 11, Lake Braddock Secondary School recognized six of its college-bound student-athletes. The ceremony was in addition to an earlier one on March 30. After brief remarks from the school's principal, Dave Thomas, and director of student activities Mark Martino, each senior took turns posing for pictures and then enjoyed chocolate cookies and banana nut breads.
Those honored included:
Brittany Peebles (Howard) -- Soccer
Carol Dye (Mary Washington) -- Basketball
Sarah Lynch (Vanderbilt) -- Swim and Dive
Austin Freer (Kansas) -- Cheer
Dominic Morra (Augusta State) -- Basketball
Not pictured: Becca Shoemaker (George Mason) -- Track and Field
<b>Hall Makes History</b>
The Messiah College softball team won 43 games this spring and the NCAA Division III National Championship. One of its team leaders was Lindsay Hall, a 2006 Robinson graduate who started at third base every game except two this season and was second on the team with a .407 (50-for-123) batting average. Her 22 RBIs and .463 slugging percentage ranked fourth and fifth, respectively. For her efforts, Hall was also named the Commonwealth Conference's Player of the Year with a .441 batting average during the regular season, which was the conference's third-best such mark. By defeating Coe College 2-0 in consecutive days and winning their final 23 games, the Falcons won their first-ever national title at Montclair State University in Montana.
<b>Mason Renews AD's Contract</b>
George Mason University has extended athletic director Tom O'Connor's contract until 2013, according to a press release issued by the school on Monday afternoon, June 15. O'Connor is currently finishing his 15th year of work at the school. The contract extension arrived when many of Mason's teams have flourished as of late. In addition to the men's basketball team's 2006 run to the Final Four, the baseball team tied a school record with 42 wins this spring and received an at-large berth to the NCAA tournament. The men's soccer team won the Colonial Athletic Association championship and advanced to the NCAA tournament for the second time in three years. Several Mason athletes have also earned All-America honors over the past few seasons as well. Besides his duties at Mason, O'Connor just finished his fifth year on the NCAA Men's Basketball Committee, which helps determine seeding for the NCAA tournament.
<b>Flag Football Registration</b>
The Northern Virginia "NFL" Youth Flag Football League has opened registration for the upcoming fall season online at www.novaflag.com. The 2009 season will mark the league's 12th year in providing flag football for boys and girls ages 5-14. Registration is once again expected to be heavy for the fall. To learn more about the program or to register online, visit www.novaflag.com.