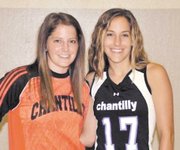 On Dec. 4, 1990, one set of Stillwell sisters did something that was completely unheard of among anyone either Sandy Bruton or Debbie Stillwell knew at the time.
Positioned in adjoining rooms at the neonatal intensive care unit at Inova Fairfax Hospital, both gave birth on the exact same date -- Stillwell to twin girls, Jessica and Katie, early that morning and Bruton to another girl, Brittney, later that evening.
Seventeen-and-a-half years later, another set of Stillwell sisters did something that was equally as rare: They both won a Virginia AAA state title on the same day and on different teams. Confirmation has arrived; apparently the Stillwell family really does liking doing things together.
Jessica Stillwell, a goalkeeper on the Chantilly girls' soccer team, won her state title first on Sunday, June 7 at Westfield High School. Approximately four hours later, Katie Stillwell's lacrosse team also won a state trophy. Both were first-time occurrences not only for the Stillwell family but for Chantilly, too.
"It was really nice for both of us to win states, especially because both of us won during our senior year," Jessica Stillwell said. "It was special that we got the share that."
The list of concurrent events with the Stillwells is comical, especially considering the fact that Debbie Stillwell's due date wasn't for another two months. And also take into account that Katie Stillwell's lacrosse team had lost its previous five championship games -- perhaps waiting for Jessica to have the opportunity, too -- before it finally emerged victorious.
<b>WHILE HER</b> sister stood on the sideline -- Jessica Stillwell serves as a backup behind All-Northern Region performer Lauren Jancuska but still made 25 saves this season -- Katie Stillwell couldn't attend the girls' soccer game because she was instructed to conserve as much energy as possible.
So every 30 minutes or so, a new message would pop up on Katie Stillwell's cell phone, alerting her of any possible score change. By the time Chantilly led 1-0 at halftime, Katie Stillwell knew. When Olivia Colella scored what would amount to the game-winning goal during a 2-1 victory over Mills Godwin, Katie Stillwell knew.
"They're both each other's biggest fan," Debbie Stillwell said.
After a celebratory meal with her teammates, Jessica Stillwell returned to Westfield to watch her sister's game, which had started to become something akin to swimming -- eating beforehand might not be such a good idea.
But Jessica Stillwell went anyway, and when Chantilly started its eventual 13-4 victory over Robinson on a seven-goal scoring spree, things started to look strangely coincidental for the Stillwell sisters.
<b>DEBBIE STILLWELL</b> and her husband Eric developed a simple philosophy when their two daughters were born. Yes, they shared a birthday. Yes, they looked at least somewhat alike -- the twins still aren't at the I-can't-tell-you-apart stage -- but Debbie and Eric Stillwell didn't want that to translate into having two carbon copies.
So Jessica and Katie Stillwell were encouraged to try several sports and explore. Both played soccer and both played basketball. Jessica Stillwell developed a love for running. And when the twins entered high school, Katie Stillwell took up lacrosse.
Jessica Stillwell, on the other hand, well, it's not a stretch to say that Katie Stillwell's persuasiveness lags a bit behind her scoring touch, which resulted in 70 goals and 40 assists this season. The point was evidenced when Jessica Stillwell considered becoming a lacrosse goalkeeper during the twins' sophomore year.
"I had a lacrosse stick and I didn't even have padding yet," Jessica Stillwell said. "She's ripping shots at me and said, 'That's not even my hard shot.' I was like, 'I'm done with this.'
Now, Katie Stillwell will play lacrosse next spring at William & Mary, while Jessica Stillwell is contemplating continuing her soccer career at Christopher Newport.
But after Katie Stillwell's lacrosse team won its first-ever state title and Jessica Stillwell hung around long enough to congratulate her twin, the two sisters shared a moment that was as relieving as it was rare.
"When we both knew we were in the state championship, I think we were both a little uneasy about whether we would both win so we could celebrate together," Katie Stillwell said. "Right after my game, she came up and gave me a hug, and then it hit me that we both won. It was just the best feeling in the world."