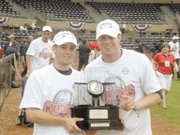 In the moments that followed the University of Virginia baseball team's ACC Championship-clinching victory over Florida State on May 24, players celebrated, parents fumbled with their digital cameras and Shane Halley and Keith Werman did something that would've made them both sick had it occurred only 12 months earlier.
They stood and posed for one of those pictures. Together. Holding a trophy.
Though they played opposite each other at two of Northern Virginia's top baseball programs in Lake Braddock and Oakton, respectively, Halley and Werman both have made significant contributions to a history-making Virginia squad this spring as true freshmen.
After a 6-3 win over the Seminoles where Halley entered the game as a late-inning substitution and Werman went 0-for-4 while starting at second base and batting in the No. 9 hole, the pair obliged as teammate Will Campbell insisted that they pose together with the ACC trophy.
"Lake Braddock and Oakton have always been big rivals come playoff time, and finally we were together to win a championship and that was pretty awesome," Werman said. "We just said that we had to get a picture of this."
The ACC title hasn't been the only awesome thing for the Cavaliers (49-14-1) this season. Halley and Werman have enjoyed a why-isn't-every-year-like-this ride that continued Monday afternoon with a victory in the College World Series — the school's first. Behind two hits, two RBIs and two runs scored from Werman, the Cavaliers disposed of Cal State Fullerton, 7-5 and advanced to face Arkansas Wednesday night.
<b>WERMAN DIDN'T</b> mind having his head shaved. At the beginning of the season, Virginia threw a formal banquet to officially start its season, and, as tradition dictates, all of the freshmen had to get a trim. The haircut was also symbolic. It served as the first and last form of playful harassment put forth by the veteran players.
Both noticed it early on: The older players did not mess with the younger guys. They embraced them. They made them feel comfortable. Which was important as Virginia started four of those freshmen Monday.
Halley didn't waste any time providing Virginia with validation of its recruiting efforts, striking out the side during his first career appearance, a 12-0 win over Bucknell on Feb. 22. On the season, Halley had amassed a 3-0 record on the mound with 23 strikeouts and a 1.86 ERA as of Wednesday morning. In 19 1/3 innings, he's only walked three batters, and at the plate Halley has four hits in eight at-bats.
For his success on the mound, Halley attributed most of it to pitching coach Karl Kuhn, whose about-face approach has sat well with the right-hander.
"The mental approach is the same: You want to go after every guy," Halley said of the primary difference between high school and college baseball. "But going about that is a little different than you'd do in high school. In college, it's more location than just being able to rear-back and blow it by someone."
<b>WITH HIS HAIR</b> gone, Werman was also without something that has appeared nearly as often: playing time. A mainstay behind the plate and in the infield at Oakton, rarely had Werman been relegated to the bench like he was during the early part of this spring.
But ever since a May 10 win over Duke, Werman been a regular presence at second base for the Cavaliers. With a batting average of .406 (28-for-69) and an on-base percentage of .488 through Wednesday morning, he's been an effective one, too.
"To be completely honest, it was a major adjustment," said Werman, who has gone 6-for-9 with two doubles and three RBIs during his team's first two CWS games. "Really, I think it's the biggest adjustment that I ever made with baseball."
Halley and Werman lived in adjacent dorms -- Halley in Kent, Werman in Dabney -- but spent a considerable amount of time together this year away from baseball. As both will admit, their Northern Region rivalries didn't exactly bring the two closer together. But Virginia did.
"This means a lot to us and I'm sure that means a lot to the people back home," Werman said. "I know they're there to support us. It definitely brings us together, and we're proud of where we've gotten to so far."