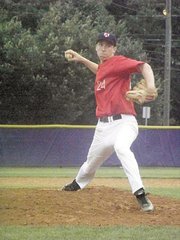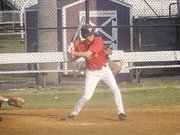 Rallies in baseball most often occur when players take it upon themselves to sharpen their focus for the sake of a collective goal. And usually after a mix of hard-hit liners, bloop singles and luck, one team can find itself with a game-deciding run before anyone has realized what happened.
But what if those forces align themselves in the opposite direction?
Well, you get a rather comical term and mounting frustration. Just ask Alexandria Post 24 and its coach, Jim Glassman.
"We're always in games, but we've always got that one inning that kills us," Glassman said. "I just can't figure it out."
That inning, unfortunately, happened twice during the course of Tuesday's game against Centreville Post 1995 at Chantilly High School, a contest that Post 24 eventually dropped, 2-1. Despite holding a one-run lead for more than half the game, Post 24 had a breakdown of sorts, allowing single runs in the sixth and seventh innings.
The mental lapses, although mostly brief, have been an overriding theme this season for Glassman's team. It's almost become maddening. Though Post 24, which features players from Mount Vernon, West Potomac, and Hayfield High Schools is 1-4 thus far, the majority of those losses have been winnable games, minus a bad inning here and there.
<b>A WALK</b>, an error and a single. That was the first recipe for disaster. Leading Post 1995, 1-0, with two outs in the bottom of the sixth inning, Post 24 was cruising along thanks to a solid outing from starting pitcher Brett Shaeffer. But after getting two quick out, Shaeffer plunked the next hitter and shortstop Manny Aponte's error a play later gave Post 1995 runners on first and second.
Then Shaeffer left a pitch up in the zone and allowed a single, tying the score at one. It was an inning that Glassman affectionately referred to as a "brain fart," and it was one that — with two outs at the time — could've been just as easily avoided.
"We're in games, but we've had one of those innings in every game," Glassman said. "It's always in the middle of the game, and it's just a lack of concentration for a minute."
The next inning, Post 1995 went ahead for good because of a leadoff triple and a run-scoring single, prompting a conversation between Glassman and Shaeffer.
Glassman told Shaeffer he was leaving his pitches too high in the strike zone, and they were too enticing. Shaeffer agreed. From there, Shaeffer regained his control and finished the inning.
"We get along so well that we don't focus," said Shaeffer, a 2008 Hayfield graduate who threw seven innings and scattered nine hits. "We just come out here and go through the motions."
<b>ANOTHER MOMENT</b> Glassman wishes he could correct happened three separate times Tuesday night. In the fourth, seventh and eighth innings, Post 24 left a runner stranded on third base. It also left 11 runners on base throughout the entire nine-inning game.
According to Glassman, players have been taking too big of swings, a result of trying to do too much. Twice Post 24 players took all-out cuts at the ball, only to end up with an inning-ending popout that didn't leave the infield.
"That was crucial," Shaeffer said. "If we score two of those three runs, it's a different game."
Still, Post 24 has been able to hit the ball and that's been encouraging for the longtime skipper. Aponte collected two hits against Post 1995. Ditto for third baseman Andrew Sable, catcher Ben Adducci and Shaeffer.
And playing against a team like Post 1995, which features several players from Northern Region stalwarts Westfield and Chantilly, Post 24's efforts did not go unnoticed. A lot of encouraging signs came out of Tuesday's loss, although the team wasn't able to avoid those few costly mistakes.
"Giving up only two runs against that team … that's really good," said second baseman Kyle Quigley, who went 1-for-4 on Tuesday. "You have to keep them close and you can't let them get in scoring position because they will hit them in."