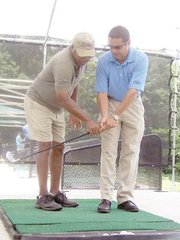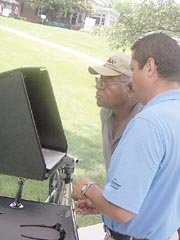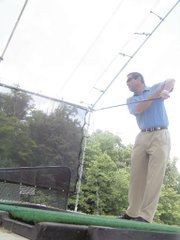 Larry Billups stood there hacking at one golf ball after another. Some flew straight and some didn't. Some barely eluded the grass and some joined the trees that surround the driving range at Pohick Bay Golf Course. Afternoons like these have become routine for Billups, a retired Washington, D.C. public schools teacher.
In addition to working as an alternate starter for the past 15 summers, Billups has played countless rounds at Pohick over the past 40 years and was ironing out a few kinks this sunny Friday afternoon, June 12.
Sporting a bright blue polo and khakis, Fernando Martinez watched from afar as Billups gripped his club. The only problem was Billups wasn't so much gripping the club as he was choking the life out of it. Recently hired as the director of golf instruction at Pohick, Martinez spotted the mistake after only one swing.
Billups, thinking nothing of it, had the club buried in the palm of his hand, negating any sort of rotation that may occur with his wrists. Unprompted, Martinez approached Billups and told him to drop the club slightly into his fingers, thereby allowing for more rotation and less suffocation.
"I've spent 40 years doing the wrong things … and practicing them," joked Billups, who resides in Springfield. "You hit 20 balls and you might get off two shots that are good and you think you're onto something, but you're not onto anything. I know instruction, and I know when somebody is telling me something."
Martinez spent more than 20 minutes working with Billups, placing his hands properly on the club and taking him through a series of drills, one of which involved a left-hand-only swing that Martinez said should be an eventual goal for Billups.
Hired in May, Martinez brings a lengthy résumé of experience to the public course off of Gunston Road in Lorton. While some club pros may be content to give a few lessons and collect a paycheck, Martinez, who grew up near the Alexandria-Springfield area and now resides in Lorton, hopes to revamp the entire teaching system for golf at Pohick.
<b>BEFORE POHICK,</b> Martinez spent five years at the Mid-Atlantic Golf Center in Kingstowne -- now known as Top Golf -- and left there to teach at Hilltop Golf Club in Alexandria in 2005. Also at that time, Martinez decided to work as an independent contractor and assumed similar duties at Washington Golf Center.
In 2006, Martinez was approached about becoming an instructor at the now-defunct Nicklaus Academy at The Presidential in Dulles and would up taking that position a year-and-a-half later. After seven months of work at a facility that Martinez called "the best of the best," he was without a job.
So Martinez inquired about maybe teaching a few lessons at Pohick, while he sorted everything out. However, the Northern Virginia Regional Park Authority operations superintendent Chris Pauley was looking to improve Pohick's golf instruction program and eventually tapped Martinez to do so.
"It's kind of a feather in our cap to have somebody with his qualifications there giving instruction at a public golf course," Pauley said. "He's a dynamic instructor in that I think he communicates well with different kinds of golfers, and I think he brings a lot to the golf course."
Since Martinez was hired, Pohick has added a $900,000 irrigation network that increased the course's number of sprinkler heads from 150 to 900 and also installed a state-of-the-art video system. Only a chip shot from where Billups was practicing, V-shaped tent can be found with a camera to the right and a camera in the back for analysis.
After recording a player's swing from two angles, that information is transported to the computer that's stationed between the two cameras. It's a technological set-up that Martinez expects to transform over time into an entire building, making Pohick one of the area's foremost leaders in golf instruction.
"People can get really caught up with being technical in golf and they can't turn it into an enjoyable pastime, which is actually our goal," Martinez said. "Our goal is to hit the golf ball in the least number of shots to the hole and to create as repetitive a system as possible."
<b>WITH A COURSE</b> that plays between 4,948-6,405 yards, Pohick would also serve as a stiff challenge for many junior players, which is also an area of emphasis for Martinez. He's already developed relationships with James Purdham and John Caulfield, who are the golf coaches at Hayfield and South County secondary schools, respectively.
Pohick will host a series of junior golf camps that start on June 22-25 and run throughout the summer. More information can be found at www.martinezcoregolf.com, but the camps feature instruction from 9 a.m.-12:30 p.m. and cost $185 for the week. The typical age range for campers is between 8-17.
Camps like these are what excite Martinez the most. Sitting in the corner of the pro shop at Pohick, Martinez cycles through his instruction plans for the summer on a computer. Nearby are several options for both golf clothing and equipment, neither of which Martinez has any desire to oversee.
"I think that I've been able to succeed most places I go because of how I interact, how I ask questions, how I get into people's minds and find out what it is that they're really trying to do," Martinez said. "I'm explaining it to them at their own level."
Since he began playing golf at the age of 31, Fernandez has been hooked on the sport and teaching it. He took a job in 1996 selling golf clubs at Washington Golf Center and soon found himself doing more teaching than anything.
Now Martinez has brought that passion to Pohick and to people like Billups, who, at a public course, would rarely benefit from that type of instruction.
"When you're a good instructor, you know after one swing what the problem is," Billups said. "One thing about golf, you can know all you want to know, but if someone doesn't show you specifically how to take care of those things, you're just going to be ignorant all your life about golf."