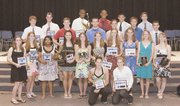 <b>West Potomac Spring Awards</b>
West Potomac High School recently held its 2009 spring sports special awards ceremony to honor the best and brightest student-athletes the school has to offer. The male scholar athlete award was given to senior Brandon Comfort of the track and field team for his performance on the track and in the classroom. Julie Ruamthong of the girls' tennis team was named the female scholar athlete of the spring.
There were four winners of the Ft. Hunt Sportsmen John C. Frey Athlete of the Year award. Arthur Genuario won the boys' team sports category for strong showings in golf in the fall and baseball in the spring. Catherine Bradley of the field hockey and girls' lacrosse teams took home the girls' team sport award.
Jon McCants of the track and field team was honored with the boys individual sports award, while Ruamthong took home the female equivalent as a member of cheerleading, gymnastics, and girls tennis teams. Here is a complete list of spring sport MVPs from this past season:
Arthur Genaurio (baseball), Kieran Merek (boys' crew), Kimberly Crawford (girls' crew), Colin McConville (boys' lacrosse), Catherine Bradley (girls' lacrosse), Orlando Nares (boys' soccer), Alexandra Butler (girls' soccer), Samantha Bauer (softball), Alexander Cheng (boys' tennis), Julie Ruamthong (girls' tennis), Jon McCants (boys' track and field), and Sarah Jane Underwood (girls' track and field).
<b>T.C. Williams Basketball Clinic</b>
T.C. Williams girls' basketball coach Cavanaugh Hagen is hosting a summer clinic for girls ages 7-17 and boys ages 6-12. The one-week clinic will take place between July 27 and Aug. 1 with sessions running from 4-6:30 p.m.
The clinics will feature individual team competition, skill work, awards, a talented staff of counselors including North Carolina-bound Northern Region Player of the Year Tierra Ruffin-Pratt, and guest speakers of all levels.
For more information contact Cavanaugh Hagen at cav484@gmail.com.
<b>Swim Results</b>
<bt>The NVSL summer swim season is right around the corner and the Gazette doesn't want any child's achievements in the pool to go unnoticed. To have swim team results posted in the Connection each week, contact sports editor Mark Giannotto at mgiannotto@connectionnewspapers.com.
<b>Northern Virginia Senior Olympics</b>
The Northern Virginia Senior Olympics (NVSO) for senior adults, 50 years of age and over, will be Sept. 12-23. The Thomas Jefferson Community Center, 3501 S. 2nd St., Arlington, will host opening day, Saturday, Sept. 12 with welcome ceremonies at 10:30 a.m. followed by track events. Virginia Hospital Center will sponsor a health fair from 9 – 11 a.m. and the Traveling Bicycle Museum will be open from 9 a.m.– noon.
More than 25 other events will take place during the 10-day competition at various venues throughout Northern Virginia. Participants must be 50 years old by Dec. 31 and live in one of the sponsoring jurisdictions: cities of Alexandria, Fairfax and Falls Church, counties of Arlington, Fairfax, Loudoun and Prince William.
In addition to track and field, events will include swimming, diving, ice skating, tennis, table tennis, bowling, golf, miniature golf, pickleball, racquetball, board games, card games, shuffleboard, horseshoes, 3x3 basketball, team line dancing, yo-yo tricks and more. New in 2009 are Wii bowling and mini javelin throw.
Registration is $10, which includes one event; additional events are $1. Registration forms are available at senior centers and senior residences or by calling 703-228-3600, ext. 9996. Registration deadline is Aug. 28.