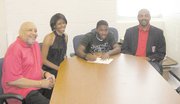 As he walked the halls of T.C. Williams last week, senior Edward Jenkins began explaining what he had been doing since sporting a Titans basketball jersey for the final time.
The 5-foot-10 guard, who racked up a series of awards throughout his career including Northern Region and All-Connection Player of the Year this past winter, claimed he hadn't been playing hoops all that much. "Just work," he said. "I've been working with a tutor, trying to get my grades right."
His mother, Traci Jenkins, on hand to watch her son sign his letter-of-intent to take his talents to Division-II Mount Olive College next fall, didn't buy that talk for a second.
"The other day I sent him to do laundry," said Jenkins. "He came back soaking wet in sweat. How did that happen?"
"I told my Mom, 'I just have to play basketball, I just have that feeling,'" conceded Jenkins with a grin on his face. "I just put my clothes in the washing machine and left."
<b>THAT HUNGER</b> for basketball has led Jenkins to the Mount Olive basketball team. The undersized Titan had a desire to play Division-I hoops somewhere, but the offers never materialized. His coach this past season, Julian King, tried in vain to convince college coaches and scouts to look past Jenkins's lack of height and instead focus on his actual production.
But basketball is a sport of slights. Just look at Michael Jordan, who unlike Jenkins, a four-year varsity player for T.C. Williams, didn't play for his high school team until junior year. So rather than feel overlooked, Jenkins went with the school that he believed most appreciated what he had to offer. Mount Olive is located a little more than an hour southeast of Raleigh, N.C.
"This is the only one that gave me the attention, they came to all my games, they called me here and there, I talked to them on an everyday basis so I built a relationship with that," said Jenkins. "Once you build a relationship with a coach, it's incredible."
Jenkins said Mount Olive coach Joey Higginbotham wants him to play the exact same way he did in high school, attacking the basket with his superior quickness. This past winter, Jenkins averaged 21 points, five rebounds, and five assists helping lead a young and inexperienced Titan squad to a third-straight Northern Region title before bowing out in the state quarterfinals.
BUT JENKINS SAYS he doesn't think about his high school accomplishments all that much. Not the 71 (and counting) consecutive Patriot District wins or the four-straight district championships he helped author. Nor the Virginia AAA state title he won as a junior. Even mention of the 27-3 record T.C. Williams had during his senior season after losing nine seniors from that state championship team draws nothing more than a nod.
"Losing, that's the last memory," said Jenkins. "That's all I can think about. All that other stuff don't matter. I got back to states, but it's not where I wanted it to end. That's all I think about, losing."
He even calls up teammates, like junior Ryan Yates, late at night rehashing what happened and what could have been done differently in his team's season-ending 72-61 loss to John Marshall. Just add it to the list of things that will motivate Jenkins as he moves to the next level.
"That's just a basketball player, all the greats do it," said Jenkins. "Kobe Bryant did it. I'm not gonna take it to college. Once I leave here, it stays here."
His presence on the King Street campus, though, won't soon be forgotten. As he moved from the main office to the athletic department last week before the bell sounded to start one of the final days of classes, Jenkins couldn't go more than 20 feet without stopping. A teacher wanted to wish him well. A secretary wanted to give him a hug. A friend wanted to say hello. It seems everyone knows Jenkins and his laundry list of achievements.
"There were a few games this season where he flat out refused to lose," said T.C. Williams principal Bill Clendaniel. "We're going to miss him."