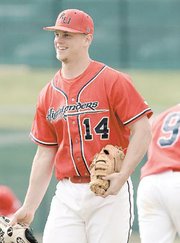 As far as affiliation goes, Alex Gregory and Justin Bour aren't linked by much.
A Great Falls native and a graduate of Paul VI High School, Gregory spent four years on the Radford University baseball team. Bour, meanwhile, graduated from Westfield High School and has played at George Mason University for the past three years.
But on Wednesday afternoon, Gregory and Bour became intertwined through Major League Baseball's First-Year Player Draft when their names were called and they were counted upon as the local area's lone representatives in the annual process.
Gregory was a 17th-round pick (524th overall) by the New York Mets. The Chicago Cubs picked Bour in the 25th round (770th overall). Both players, who possess nearly identical skill sets as power-hitting first basemen, will begin their professional careers this week.
"It's something that you work at for so long, and it's great to see that all of your hard work paid off," Gregory said. "I tried to outwork everybody every day."
"It wasn't really a big deal when I was taken," said Bour. "It's just the matter of getting the chance to go out there and play. The round really wasn't much of a concern. It was just going to a good organization."
Gregory will report to New York's Class A short-season affiliate, the Brooklyn Cyclones. Bour, meanwhile, will report to the Boise Hawks -- the Cubs' Class A short-season affiliate. Gregory will play in the New York-Penn league, while Bour will play in the Northwest League.
<b>LISTED AT</b> 6-foot-4, 250 pounds, there's little conjecture involved in assessing Bour. He's a hitter and one with power. This past spring while earning first team All-Colonial Athletic Association honors at Mason, Bour hit .339 (75-for-221) with 66 RBIs.
Of his 75 hits, 14 were doubles and 17 were home runs, and his slugging percentage of .633 was third on the team. In the history of George Mason's program, Bour is second in home runs and RBIs, and he's fourth in total bases.
In addition to his own prowess at the plate, Bour helped author a record-setting season this spring for the Patriots.
Historical marks for wins (42-14) and winning percentage (.804) were both tied. The team made its sixth NCAA tournament appearance this season, but the Patriots dropped its first two games to South Carolina and Binghamton.
Still, Mason's run made an impression on Bour, who admitted that leaving college one year early wasn't an easy decision to make.
"Obviously, I had a lot of good friends at Mason and we had a great year, but I saw this as one of those opportunities that you might not get again," said Bour, whose older brother, Jason Bour, is with the Class A Sarasota Reds in Cincinnati's minor league system.
"At Mason, I wanted to be on a team that came together, made a difference and impacted the school because obviously we had never done something like that before," he said. "It was good to be a part of that."
<b>GREGORY'S</b> draft day moment occurred a bit differently than Bour's. While Bour found himself surrounded by a support structure of his grandparents, parents and his girlfriend, Gregory sat alone in front of his computer.
Furthermore, Bour received a phone call from Billy Swoope, a scout in the Mets' system and someone Bour has known since his junior year in high school, letting him know that he would be chosen shortly. Gregory saw his name pop-up on MLB.com's draft tracking program before he received his phone call.
"I actually saw it on the computer, and I got the phone call within a minute or two of my name popping up," Gregory said.
Playing at Radford and in the Big South Conference, Gregory had yet another productive offensive season. He hit .407 to win the conference batting title and also totaled 10 home runs and 42 RBIs. Even more impressive, Gregory led the Big South with a .518 on-base percentage.
Gregory, who became the first player in Radford history to hit over .400 for three consecutive years, expressed confidence when asked how he'd handle the task of hitting major league pitching.
"I feel like I can hit the best pitching in the country. Now it's just a matter of going out and backing it up," Gregory said. "I always have to work on hitting. There are obviously new things to learn and improve on because if you can hit, there'll always be a spot for you at the next level."