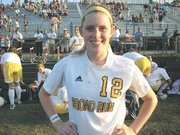 In some ways, the Broad Run High girls' soccer team was emotionally spent following its 2-0 state AA semifinals playoff win over Courtland High on June 6 at Radford University.
After all, it was Courtland, a team from Spotsylvania and a member of the Battlefield District, which was thought of as the squad that might best be equipped to upset the powerful and defending state champion Broad Run team. A year earlier, the Cougars, in the state finals, had given the unbeaten Spartans perhaps their toughest match of the season in a 1-0 Broad Run win.
So when the two state rivals met at states again this spring -- this time in the semis -- Broad Run, once again attempting to complete an unbeaten season with a strong finish at states, was mentally prepared to take on the tough, talented Courtland squad. And it showed as the Spartans ended the Cougars' season and advanced to the following day's finals against Roanoke's Hidden Valley.
"In some of our players' minds, that was the state finals," said Broad Run coach Claire Collins, of the round of four triumph over a Courtland team (18-1-2) that had not lost going into the postseason contest against the Spartans. "Our girls exuded so much energy in that game. All of our emotions were in that game."
Even so, Broad Run still had enough left to handle Hidden Valley (23-1-1) in the championship game, giving the Spartans another unbeaten season and their second straight state crown. It marked the first time ever that a girls' soccer team has captured back-to-back state AA championships.
Broad Run, despite not being as emotionally charged in the championship game as it had been the day before, was still a determined outfit. The Spartans were not about to see their season's primary goal of successfully defending their state title slip away.
"The emotion wasn't [the same] but they knew they could still go out there and play just as hard," said Collins, of the finals game. "We did play well. All of the pressure was on us [as the favorite] but my girls thrive on pressure. That's when they perform their best."
Broad Run had also beaten Hidden Valley at last year's state tournament, besting the Titans in a semifinals game, 4-1.
<b>WITH ITS FINALS</b> win over Hidden Valley two weeks ago, the Spartans finished the spring 23-0-1. Broad Run had gotten two second half goals from sophomore midfielder Whitney Church in the semifinals win over Courtland.
Then, in the finals win over Hidden Valley, freshman Erin Brady and Church both scored goals in the first half before senior forward Valerie Powell put the game away with a second half goal. Senior forward Kelly Evans had a nifty assist on Brady's first half score. Broad Run senior goalie Caitlin Hunter earned the win in the net as the Spartans notched their 20th shutout victory of the season.
The celebration following the win over Hidden Valley was not as spontaneous or charged as the one following last year's title game win over Courtland. But, make no mistake, it was a thrilled Spartans' team that had fulfilled its mission of gaining another title.
"We had won and been there before but it was nice to get our goal," said Collins. "It's huge. We are the first team to win back to back. It's hard to do that in sports, not to mention going unbeaten [in consecutive seasons]. Just making it to states is hard."
While last year's Broad Run team might have been more dominant on offense, scoring 113 goals in 2008 compared to 85 this season, the '09 Spartans were just as dominant on defense, allowing just four scores compared to 16 last year. The 20 shutouts this spring were a new state record. Last year, Broad Run earned 13 shutouts.
All in all, it was simple dominance across the board for Broad Run this season.
"It's been a great ride," said Collins.