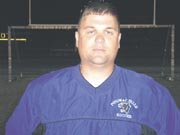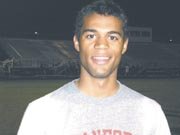 The sting has worn off somewhat for the Potomac Falls High boys' soccer team following its heart-breaking 3-2 overtime loss to Blacksburg in the Virginia State AA championship game at Radford University on June 7.
Earlier in the postseason, the Panthers captured both the Dulles District and Region II tournament titles. Then, at the eight-team state tournament, Potomac Falls won a quarterfinals round home game over Grafton High (Yorktown) to advance to the round of four at Radford.
In a semifinals affair, the locals looked all but invincible in defeating Loudoun County area rival Broad Run, 5-0, on June 6. That put the Panthers into the following day's state title game against Blacksburg (River Ridge District), an opponent Potomac Falls had fallen to in the state semifinals in 2005 but beaten in the '06 state championship contest.
Riding a 12-game win streak, including eight straight wins in the postseason, Potomac Falls came about as close as a team could come to winning the title match against the Bruins. The Panthers had broken a 1-1 tie on a goal by senior midfielder Asa Fox, off an assist from junior midfielder Conor Shanosky, to take a 2-1 lead with just less than two minutes remaining in regulation.
But, unbelievably, Blacksburg, which had a huge, partisan fan base on hand as a result of the Region IV team's relative proximity to Radford, forced overtime with a goal with just three seconds remaining to tie the score at 2-2. Later, in a fourth overtime session, the Bruins scored what proved to be the game-winner.
Potomac Falls, which had been oh, so close to capturing the crown, ended up falling barely short. Now, a few weeks removed from the stunning setback, Panthers head coach Dave Gryder said his team has, for the most part, gotten over it and focused on all the wonderful accomplishments of the '09 season.
"We've had some time to kind of reflect on how successful and enjoyable the season was for the players and coaches," said Gryder, whose mostly underclassmen squad (three seniors) finished 18-6-1. "[The loss] is a hard thing to take, but you have to look at the positive season we had."
Gryder said Blacksburg's late goal in regulation ultimately gave the Bruins the lift they needed to win.
"Emotionally, it's hard to recover from that," said Gryder, of allowing the late goal in regulation. "The momentum switched to their side with that dramatic goal. We had chances in overtime. We did our best. Our kids played as hard as they could."
<b>POTOMAC FALLS</b> trailed the Bruins 1-0 at halftime. But the Panthers tied the game on a goal by sophomore striker Eddy Funes with 16 minutes remaining in the second half.
"Eddy beat four or five defenders to score," said Gryder.
That goal set up the late game dramatics.
Gryder said Potomac Falls and Blacksburg, who have met in three of the past five years at states, have built quite a rivalry.
"I love playing them," said Gryder. "They are similar to us. They have the same kind of mentality – they are scrappy and give everything they have. It's a great cross-state rivalry."
Potomac Falls may or may not have been as dominant a team as Panther squads of recent years who had more experience and, likely, more star power. But the team, following an average start to the season, emerged into a statewide force.
"From the freshmen on up to the seniors, each kid contributed," said Gryder. "We have a lot of kids coming back [next year] who know what it takes."