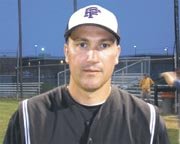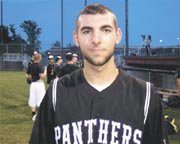 The run to a state title fell two wins short for the Potomac Falls High baseball team this spring. Nevertheless, the Panthers' red-hot play throughout the season and its vast success in the postseason electrified the local community.
"It was great for the program, the community, the kids [on the team] and everybody," said veteran Panthers' coach Joe Terango, of the baseball fever that flourished, particularly over the final month of the Potomac Falls' season. "There was so much excitement in the community. People would walk up to me and tell me how excited they were for our team and the boys."
The Panthers' season ultimately ended with a Virginia State AA semifinals loss to Puquoson (Bay Rivers District), 3-0, on June 6 at Radford University.
Potomac Falls, this year's Dulls District and Region II tournament champions, had defeated Grafton (Yorktown) in a state quarterfinals round game at home on June 2. Panther star Jake Kline pitched outstanding in that extra innings win, which allowed the Panthers to advance to the state semis in Radford, Va.
But against Puquoson, Potomac Falls, which had one of the state's top hitting teams this spring, was held in check by Islanders left-handed pitching ace, junior Kyle Crockett, who tossed a complete game, five-hit shutout. Crockett earned State AA Player of the Year honors this season.
"He's just a tremendous athlete and a tremendous ball player," said Terango. "He was throwing in the mid-to-high 80s at times. He has a really good fastball. We never had two hits in a row off him."
Crockett also helped himself out by picking off two Potomac Falls base runners. Also, Puquoson's defense backed up its star pitcher with solid glove work and two double plays.
"They played good defense behind him," said Terango. "They had a better baseball team than us on that day."
<b>POTOMAC FALLS</b>, in the semis affair, received a strong relief pitching outing from senior left-hander Eric Dimsey, who tossed 5-2/3 innings of scoreless ball.
Poquoson went on to win the state title game the following day – its first state banner since 2001.
Earlier in the postseason, Potomac Falls defeated Broad Run in the Dulles District championship game. Later in the playoffs, the Panthers won the Region II crown with a 5-1 victory at Orange County High. In that game, Dimsey earned the win in relief.
Potomac Falls was hoping to reach the state finals for the first time in the program's history. The Panthers, under Terango, had reached the state semifinals in both 2001 and 2003 before losing.
But the team's hopes of going further this season ended with the loss to Poquoson. Still, it was a sensational season for Potomac Falls, which finished 22-4 overall.
More like this story