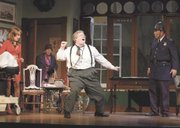 Roland Branford Gomez is well known for staging a wide variety of shows at the Little Theatre of Alexandria from gentle comedies to major musicals. This month he returns to the works of a master of the British farce and those who enjoyed his production of "Run For Your Wife" four years ago will want to catch the new production of the even funnier "It Runs In The Family" which plays through June 27.
THE FARCE is another in the many written by an author well known in London's theater district but whose name is not very familiar to theatergoers on this side of the Atlantic. He is Ray Cooney, who has made a very good career out his ability to take a fairly outlandish situation and add layer after layer of complication while keeping the story clear for the audience to follow.
Gomez has the benefit of a very skillful cast but the production is notable for the director's ability to bring that cast together as a unit, working together in fine ensemble form and at a very high energy level. As a result, the two-and-a-half-hour performance rushes by so fast you may come away thinking it is briefer than all that.
Mark Lee Adams kicks it all off as an English doctor rehearsing a speech he's about to give which he believes will elevate him to the chairmanship of his hospital's practice and might even bring a knighthood his way. With mere minutes to go till his introduction, a nurse from his past shows up to tell him that a son was born from their brief liaison and the boy, now 18, wants to find his dad. Not good timing, this.
Throughout the evening's furious festivities, it is Adams' attempts to keep the powers that be within the medical community (as well as his wife) from knowing of his indiscretion from the past that drives the plot. Lies pile on top of lies as he desperately tries to keep things straight.
FARCE FREQUENTLY involves many complex relationships and this one is no exception. Populating the doctor's world are: Jeffrey Clarke, as a colleague onto whom he deflects suspicions about the parenthood of the boy who (in the person of Jimmy Day) shows up in green-spiked hair and a studded leather collar; Margaret Bush, as the former nurse; Jim Howard, as a constable who turns out to be the uncle of another colleague (Brian Clarke) who is rehearsing a Christmas show for the hospital patients and staff; and, a very funny John Shackelford as a confused patient who may see the confusion more clearly than anyone.
The fun all transpires on an impressive set of the doctors' "common room" designed by Robert Gray in his first effort at LTA in three years. His is a welcome return as he had provided some marvelous designs in the past and this new one doesn't disappoint. Indeed, on opening night the mere sight of the set when the curtains parted was enough to generate the first ovation of the evening.
***
Brad Hathaway reviews theater in Virginia, Washington and Maryland as well as Broadway, and edits Potomac Stages, a Web site covering theater in the region (www.PotomacStages.com). He can be reached at Brad@PotomacStages.com.
<sh>Where and When
<lst> "It Runs In The Family" continues through June 27 at the Little Theatre of Alexandria, 600 Wolfe Street. Performances are Wednesday - Saturday at 8 p.m. and Sunday at 3 p.m. Tickets are $15 - $18. Call 703-683-0496 or log on to www.thelittletheatre.com.