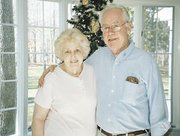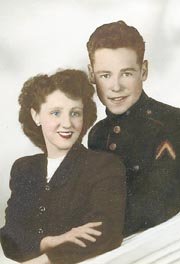 Eva and Jack Hughes celebrated their 60th wedding anniversary with their family on May 28, 2009. They were married on May 28, 1949 in a triple wedding in Holy Comforter Church, in Washington, D.C., along with Eva's sister, Maza Berry Wilson, and brother, Bob Berry.
Togetherness and a strong sense of family continued as these three wives all lived together while their solider husbands fought in the Korean War and each returned safely. All three couples remained married for their entire lives, for 60, 58 and 57 years, respectively.
Eva Hughes died on June 1, 2009, peacefully at home in Potomac in the arms of her husband. She was 82.
THE SPIRIT OF FAMILY togetherness first evidenced in their wedding continued for the Hughes family, including children Judy, Sandy and John.
The Hughes and Wilsons brought property in Potomac. The Wilsons did not have any children of their own but embraced their nieces and nephew as their own.
The Hughes children grew up in the country where the schools were good and the children could ride and raise horses, explore and enjoy all the wonders of Potomac. During nights and weekends of 1962, the Hughes built their home on Horseshoe Lane with the help of friends and family, and moved into their home on New Year's Eve, 1962.
The Hughes have lived there happily ever since, raising their three children that now have six children of their own.
They all live very close by one another, continuing the cycle of togetherness and a strong sense of family. Judy and Steve Miller raised their three children a few doors down from Jack and Eva on Horseshoe Lane, while Sandy and John Harrison live just a few blocks away. Son John started Dulles Electric & Supply in Sterling, Va., along with Dad Jack Hughes.
For more than 20 years, the extended family has gathered at Eva and Jack's Horseshoe Lane home for breakfast almost every Sunday. Her children remember that their house was always the gathering place, the place to hang out, even when they were teenagers.
EVA HUGHES loved to carve and decorate eggs and belonged to an egg guild in Virginia for many years. She loved shopping and traveling, and would pack her bag on a moment's notice to go anywhere; she was a great traveling companion.
Family and friends remember her special ability to listen and give just the right advice or suggestions in her very soft way, making everyone feel special with her great smile and attention.
Eva Hughes took care of each one of her grandchildren in their first few years to make sure that they got as much love as possible while her daughters Judy Miller and Sandy Harrison re-entered nursing and law, respectively.
She grew up in Rockingham County, Va., and graduated from Eastern High School in Washington, D.C.
Eva Hughes is survived by her husband Jack Hughes of Potomac; her daughter, Judy Miller and her husband Steve, and their three children Stephen, Patrick and Holly of Potomac; daughter Sandy Hughes Harrison and her husband John and their three children, Sally, Johnna and Jake of Potomac; son John Hughes of McLean, Va.; her brother Ray William Berry of San Diego, Calif., and many other family members and friends.
Eva Highes's life will be celebrated with a gathering beginning at noon on Friday, June 12, 2009 at Our Lady of Mercy Church, 9200 Kentsdale Drive, Potomac, to be followed by a Mass at 1 p.m.
In lieu of flowers the family requests that contributions be made to the Friends of Brookside Gardens of Wheaton, Md. or Montgomery Hospice Foundation of Rockville, Md.