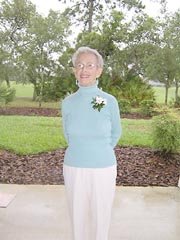 A former long-time resident of Alexandria, Elizabeth "Buff" McDonald Walke celebrated her 100th birthday on May 24. Walke wishes all friends to know that she is in good health and can still touch the palms of her hands on the floor. She lives with her daughter, Saii Walke, and divides her time between homes in Saco, Maine and Palm Coast, Florida.
Walke received her early education in Harpers Ferry, W.Va. and in Boston, Mass.
Following graduation from Hillsdale College, Michigan, she became an elementary school teacher, teaching first in Big Island, Va., then in Mount Jackson, Va., and later in Alexandria. She married Commander Richard Walke, U.S. Navy, of New York City, in 1945. Residing in Alexandria, they had one child, Sali Walke. Widowed in 1960, Walke continued to reside in Alexandria until 1978, at which time she moved to Maine at her current address.
Her favorite pastimes have included enjoying the beach in Maine and traveling to different places in the Americas and Europe.
Her family included her father, Dr. Henry T. McDonald, who, from 1899 to 1944, was president of Storer College in Harpers Ferry, a school founded immediately following the Civil War to educate African-American teachers (closed in 1955), and was a leader in the effort to establish Harpers Ferry National Park. Her mother was Dr. Elizabeth McDonald who taught languages at Storer. Her siblings: Mrs Francis Caywood (deceased) of Hartford, Conn.; Mrs Marian Durkee (deceased) of Alexandria; and Lieutenant Commander Frank McDonald, U.S. Navy (Retired) of Portsmouth, Va.
Although Walke has lived in many places, she often speaks with special fondness of Alexandria and its people. She would love to hear from friends. Her addresses are 356 Ferry Road, Saco, Maine 04072 and 50 Osprey Circle, Palm Coast, Florida 32137.