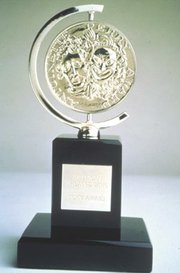 Most of the attention at Sunday night's gala Tony Awards celebration focused, naturally, on Broadway. After all, they are the awards of the Broadway League and the American Theatre Wing. But Arlington theaters came away with recognition too.
MOST IMPRESSIVE was the award to Signature Theatre, the recipient of this year's Regional Theatre Tony Award — only the second such award to go to a company along the banks of the Potomac since its inception over 30 years ago. The award is presented by the Tony Award organization on the recommendation of the American Theatre Critics Association, which is composed of critics from around the country. (Full disclosure: I serve as a member of the executive committee of that association.)
Signature's selection is the culmination of an effort begun in 1989 by two local theater people, actress Donna Migliaccio and director Eric Schaeffer who remains the artistic director of Signature. They founded Signature Theatre and found performance space through a program established by the County of Arlington's Cultural Affairs Division under director Norma Kaplan. They put on their early shows in the 89-seat "Theatre Two" of Arlington's Gunston Arts Center.
Both Schaeffer and Migliaccio have a specific interest in musicals but they did not stage a musical their first season, deciding to get their start with the somewhat simpler tasks of a straight play. But once they took on a musical, it was an eye-opening, smashing success, which brought them to the attention of the entire theater community of Washington.
That show was "Sweeney Todd," and it earned the company a Helen Hayes Award for best musical of the season as well as awards for Schaeffer for best direction of a musical and Migliaccio for best lead actress in a musical. In fact, it earned the company five Helen Hayes Awards which began the string of success the company has had with those awards. To date, work at Signature has earned 69 of them, 10 just this year when the company dominated the award program.
Signature outgrew Arlington's Theatre Two and moved into its own home in the mid-1990s, a former chrome plating shop on South Four Mile Run Drive which they converted into a black box theater capable of seating 136. They continued to mount impressive plays and musicals including one musical by Stephen Sondheim nearly every season.
Then, two years ago, they moved into their new two-theater complex in Shirlington. One theater, named the ARK, can seat up to 99. The larger, called the MAX was most recently set up for the world premiere of Michael John LaChiusa's mega-musical "Giant" with a capacity of 286. It makes the experience of watching a major musical incredibly intimate. Schaeffer, who directs musicals both here and on Broadway and even London, points out that the 286 people in the audience for "Giant" witnessed a show featuring a cast of 21 actors and 15 musicians. Over the years, Signature has offered world premieres, American premieres and re-workings of classics.
THE FIRST-EVER Regional Theatre Tony Award was given back in 1976 to Washington's Arena Stage. Arena's theater complex in Washington is currently under construction so Arena has been mounting many of its shows in Arlington. One show it staged in Crystal City, the musical "Next to Normal," went on to Broadway where it won the Tony Awards for best original score for a musical and best orchestrations and one for Alice Ripley as the best leading actress in a musical this last Sunday night. Arena also took pride in the Tony Award for best scenic design for a play which Derek McLane won for the drama "33 Variations," which had its world premiere at Arena in Washington.
For season subscriptions or single show tickets for Signature Theatre, call 703-820-9771 or log on to www.signature-theatre.org. For Arena Stage, call 202-488-3300 or log on to www.arenastage.org.
***
<lst>Brad Hathaway reviews theater in Virginia, Washington and Maryland as well as Broadway, and edits Potomac Stages, a Web site covering theater in the region (www.PotomacStages.com). He can be reached at Brad@PotomacStages.com.