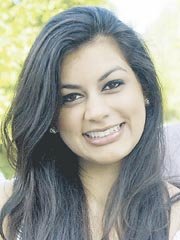 <i> Send School Notes to <a href=mailto:greatfalls@connectionnewspapers.com> greatfalls@connectionnewspapers.com</a>. Deadline is Friday.</i>
Lt. Gen. John R. Allen, Deputy Commander, United States Central Command and a 1971 Flint Hill School graduate, will be the guest speaker at Commencement ceremonies for the FHS Class of 2009 Friday, June 12, 10 a.m., on the Upper School campus.
Luke Parker, the son of Donald Parker of McLean was awarded a Bachelor of Arts degree from Earlham College during commencement ceremonies on Saturday, May 9. Parker majored in Psychology.
Vienna natives Benjamin Appling, Garret Girmus, Melanie Hainesm Gagan Jindal, Rachel Jones, Gagan Jindal, Rachel Jones, Andrew Roach, Emily Shroder, Suzanne Traut, Christopher Moad, Michael Nedelcovych and James O'Leary were named to the Dean's List at the College of William and Mary for the spring semester. In order to achieve Dean's List status, a full-time degree seeking undergraduate student must take at least 12 credit hours and earn a 3.6 Quality Point Average during the semester.
Oakton natives Spencer Atkinson, Kelsey Budd, Katherine Hidalgo, Kathryn Matteson and Allyson McKechnie were named to the Dean's List at the College of William and Mary for the spring semester. In order to achieve Dean's List status, a full-time degree seeking undergraduate student must take at least 12 credit hours and earn a 3.6 Quality Point Average during the semester.
Diana Paula Morse of Vienna received a Master's of Business Administration from the Wake Forest University Babcock Graduate School of Management. A full time MBA program graduate with academic distinction, Morse also received the Finance Award, which recognizes students who show excellence in scholarship in finance courses.
Great Falls residents Alison Janet Servis and Alison Brooke Weckstein graduated from the University of Mary Washington summa cum laude with bachelor's degrees in German and political science, respectively.
Lauren Larkin of Vienna was named to Centenary College's Dean's List for the spring semester.
Soren de Vos of Great Falls was named to the Dean's List at Florida Institute of Technology for the spring semester. A senior, de Vos is pursuing a bachelor's degree in Mechanical Engineering.
Vienna resident Mackenzie L. Stratton, a junior majoring in Public Relations, was named to the President's List for the spring semester at Georgia Southern University. To be eligible for the President's List, a student must have at least a 4.0 grade point average and carry a minimum of 12 hours for the semester.
McLean resident Katherine L. Steele, daughter of H. John and Janet Steele of Mc Lean and a 2005 graduate of Potomac School, graduated from Bucknell University summa cum laude with a bachelor of arts in English-Creative Writing and Women's and Gender Studies. She is a member of Phi Beta Kappa honor society.
Vienna resident Kevin Alton Mitchell graduated from SUNY Cortland Cum Laude with a bachelor of science.
James W. Rice, Jr. of Vienna was named to the Dean's Scholars List at Millsaps College for the spring semester. To qualify for the Dean's Scholars List a student must have a GPA of at least 3.5 for the semester.
Jessica L. Riemenschneider, daughter of Charles and Judith Riemenschneider of Mc Lean, was named to the Dean's List for the spring semester at Saint Michael's College.
Catherine E. Brennan, daughter of John and Paulina Brennan of Oakton, was named to the Dean's List for the spring semester at Saint Michael's College.
Yen Le of Vienna, Virginia, received the Mother Butler Gold Medal, awarded by the faculty to the graduating student who has shown the greatest devotion to the ideals of Marymount University. A native of Vietnam, Le participated in the Student Government Association and Campus Ministry Association. She also traveled to the Dominican Republic with a Marymount group for Alternative Spring Break and interned with Bread for the World, an organization that fights hunger at home and abroad.
Robin Monica Funsten of Vienna received a bachelor's degree in Wilderness Leadership and Experiential Education and was a featured speaker at Brevard College's commencement ceremony. Funsten was president of Brevard College's Outing Club for two years and worked with the College's Institute for Women in Leadership, registering more than 100 voters for the 2008 presidential election.
Kryssy Cates, a graduate of Clemson summa cum laude 2007, and graduate of Fort Mill High School 2003, was accepted to the Columbia School of Medicine to advance her career in medicine.
Cates, grew up in Vienna, graduated from Fort Mill High School 2003 and Clemson University cumma sum laude 2007 and was recruited by the National Institute of Health (NIH) under a Fellowship to explore and develop scientific studies in research to understand mechanisms of intracellular vesicular transport and its regulation. Her extensive research took place at both John Hopkins in Baltimore, Md., and currently at NIH in Bethesda, Md.
Cates will now further her studies in medicine at University of South Carolina School of Medicine in Columbia, S. C. While living in Chevy Chase, Md. and working full-time at NIH, Cates served as a nanny for tree children, and a discussion leader for Bible Study Fellowship. She also served at McLean Bible Church, with Lon Solomon as Lead Pastor, as a youth leader.
Stephen Eltinge of Oakton, a student at Thomas Jefferson High School for Science and Technology, is one of 20 of the nation's top high school chemistry students visiting the U.S. Air Force Academy June 3-17, vying for four spots on the U.S. team representing the nation at the 41st International Chemistry Olympiad. During the two-week camp, Eltinge joins 18 boys and two girls from 12 states to participate in classroom lectures and laboratory exercises covering analytical, organic, inorganic, physical and bio chemistry. From the 20 students in this year's Chemistry Olympiad at the Academy, four will be chosen for the final team which will represent the United States at the International Chemistry Olympiad. The four finalists will represent the United States during the international competition in Cambridge, England, July 18-27, and compete against teams from 65 other countries. More information on the 41st International Chemistry Olympiad can be found at: www.icho2009.co.uk/
Oakcrest School will graduate 26 young women Saturday, June 6, at 10 a.m. in the G. Lloyd Bunting Sr. Theatre at Oakcrest School. The Baccalaureate Mass will be celebrated at the school by Fr. Ron Gillis, Oakcrest School chaplain, on Friday, June 5, at 7:30 p.m. Anna Halpine, founder of the World Youth Alliance, will be the commencement speaker.
Student speakers will be valedictorian Kathleen Ouyang and salutatorian Theresa Herbert.
The members of the class of 2009 include:
Karina Noelle Dar Juan, Samantha Margaret Devers, Danielle Brigitte Douez, Nicole Paulette Francisco, Tracy Ann Frelk, Grace Ellen Gilday, Theresa Daez Herbert, Monica Theresa Herman, Sally Angeles Horton, Maria de los Angeles Kaufmann, Mary Eileen Kelly, Elizabeth Foran Kenis, Elizabeth Hayes Lent, Melissa Catherine Longano, Gina Catherine Maggio, Lucia Katherine Maher, Therese Eileen McCabe, Ann Marie McPherson, Jeanmarie Subia Melchert, Kathleen Chenya Ouyang, Kelly Elizabeth Riordan, Maria-Alessandra Catalina Roa, Mariah Jae Rollins, Veronika Pauline Staré, Grace Anne Samson Tatlonghari and Claire Kathleen Yenson.
The Optimist Club of Greater Vienna presented its annual Partners in Education awards to three Career Specialists who serve in local high schools: Lynn Otto from Madison High, Susan Malik from Marshall High and Marian Kendrick from Oakton High School were recognized for their dedicated service over the years in preparing our high school students as they transition to college and prepare to pursue lifelong careers. In addition, these educators have partnered with the Optimistic Club of Greater Vienna to help us identify students worthy of recognition and honor for their academic achievements and contributions to the community.
Saheba Nanda of Great Falls graduated from the Foxcroft School on Friday, May 22, at the School's 95th commencement. She was one of 40 students from 11 states, three foreign countries and the District of Columbia, awarded diplomas by Head of School Mary Louise Leipheimer. Nanda, who plans to attend George Mason University in the fall, served as the head of Special Friends, a group of students who regularly visit the elderly and infirm at the Leesburg Longterm Care Facility and as Old Girl-New Girl prefect. She also participated in Current Events & Debate, Drama Club and the School's literary magazine. Athletically, she played varsity volleyball and track. She is the daughter of Bhupinder Nanda and Manjeet Singh of Great Falls.
More like this story