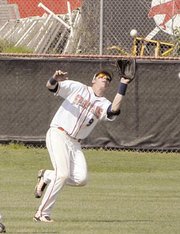 Bryn Renner was the last to leave West Springfield's dugout early last Saturday evening, June 6. His baseball team had just suffered a crushing 6-5 defeat to Menchville in the Virginia AAA state semifinals, and Renner, with his head down, held two bats in his left hand and had a red duffel bag slung over his right shoulder.
For the 2 hours and 20 minutes before that moment, the weight Renner carried was immeasurable. West Springfield's unquestioned leader, Renner collected four hits, drove in three runs and scored twice. Those associated with the Spartans' program had come to expect an heroic effort from Renner.
"He's been doing it for us all year," head coach John James said. "He's just a special athlete."
Special enough that Renner, as a ritual, pulls his team into center field before every game and leads a prayer session. Special enough that, at his direction, the Spartans color their hats and spikes with enough orange ink that you'd think they were sponsored by Sharpie. Special enough that when his team needed not only offense but a heartbeat, Renner provided both.
"I just want to do whatever it takes to win," said Renner, who previously started at shortstop but this year shifted to center field. "I want to make sure my team has a chance to win. If that means I have to go 0-for-4 and make catches in the outfield, I'll do it. I just want to get the win."
Renner did all he could. All the Spartans did. No one wanted this historic season to end. The Spartans won 23 games in 2009 and lost only once -- on Saturday -- in the state of Virginia. The team won its first Patriot District title since 2005, and it held its first Northern Region trophy since 1998, the first during James' five-year tenure.
<b>WEST SPRINGFIELD</b> had not reached this point solely because of Renner. Two pitchers, righties Mike Kent and Bobby Wahl, had turned in one dominant performance after another, with Kent tossing a complete-game gem during the Spartans' region title game against Lake Braddock and Wahl steadying himself enough three days later in a state quarterfinal victory over Deep Run. A week earlier, Wahl tossed nine innings of one-run ball during an extra-inning region semifinal win over Chantilly.
The Spartans have benefited from a wealth of offensive contributions, too. Take a look at one of James' lineup cards, and its occupants have all had significant moments. Shortstop Trevor Snook's squeeze bunt captured that district title, mercilessly ending a 16-inning, two-day marathon with South County.
Tucker Tobin, the team's catcher, hit home runs in both the region final and against Deep Run, totaling eight RBIs during the Saturday-to-Tuesday stretch. Charlie Morgan, the team's third baseman, hit a tape-measure shot over the center field fence in the first inning Saturday, which followed Renner's homer to left and tied the score at two.
"There's nothing to be disappointed about," James said. "We showed tremendous heart. We showed tremendous character all year. There's nothing to be disappointed about with these guys."
Renner was one of five seniors that James started against Menchville. Tobin, Kent, outfielder Andy Stallings and first baseman Richie McMahon were the others. That core group has started for three years, every year realizing that this season's title run would come.
"I feel we really took a big step as a baseball program, and as a whole school," Renner said. "We really stepped up. Our senior class really took it upon ourselves since freshman year and said that we really wanted to go far."
<b>ONE THING</b> that traveled far was Devorn Lake's first-inning home run Saturday against Kent. With the count 0-1, Lake pounded the next pitch he saw over the 24-foot fence in center, giving the Monarchs a 2-0 lead.
But West Springfield had some power on reserve. With Renner and Morgan answering with shots of their own, the game was tied at two entering the bottom of the third inning. After Stallings singled and second baseman Bubba Self reached on a fielder's choice, Renner's double down the left field line scored the Spartans' third run. Then Morgan, with a 1-1 count, laced a single to score Renner.
The Spartans' 4-2 lead would gradually disappear, though. With single runs in the fourth and fifth innings, Menchville tied it up. Then, after the Monarchs had runners on second and third with one out in the sixth, Jeff Gray's single to right field scored two, making it 6-4.
West Springfield fought back. Despite two swinging strikeouts in the bottom of the seventh, Self reached on a well-placed bunt, advanced to second on a balk and scored when Renner singled three pitches later, bringing the Spartans to within a run. But Morgan's swinging strikeout would later end it.
With West Springfield's loss, a Northern Region team has not captured a state championship since Madison did it in 2002.
"We kept fighting the whole time," James said, "but it just didn't work for us today."