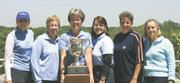 Mount Vernon resident Linda DiVall won the Virginia Senior Women's Stroke Play Championship on June 3. She bested Richmond's Bodie McGurn on the second play-off hole at Virginia Beach's Cavalier Golf and Yacht Club. Both finished with scores of 4-over 142 after the two rounds of regulation play, and both made par on the first extra hole. DiVall won when McGurn failed to get up and down from a greenside bunker on the second play-off hole.
"It was a long and intense day," DiVall said afterward. "Every tee shot out there requires immense concentration to position your ball for your approach shot. You can't lose focus at all."
The title is DiVall's third state senior title. The Mount Vernon Country Club member won the Virginia Women's Senior Amateur in 2003 and 2007. Off the course, she also keeps her focus as president and CEO of American Viewpoint, an Alexandria firm that provides political consulting and polling. In addition, DiVall is the president of the Women's Division of the Virginia State Golf Association.
Belle Haven Country Club golfers Mimi Hoffman and Arline Hoffman also played well in the event, tying for fifth and seventh, respectively. Alexandria's Shelley Savage (Army-Navy) also tied for seventh.
<b>IN WHAT</b> has become an annual event, Mount Vernon Country Club's women golfers thrashed the competition in the Women's District of Columbia Golf Association Team Championship. For the ninth time in the past 10 years, Mount Vernon won the top division in the field of 31 area clubs. Play consisted of twice-weekly matches from April 14 through May 21. The WDCGA flights teams by handicaps into four divisions, although some clubs enter more than one division.
"We played so well this year that we all but clinched the title before the last match," said Mount Vernon member Debbie Simpson. "I think our success grew from the ability of each of us to feel comfortable playing with any one else as a partner."
Each club fields three better-ball teams for each match, so playing well with a partner is indeed important. Golfers call meshing well with a teammate "ham and egging."
Five of the six Mount Vernon team members work full time, although the sixth, a busy mother of two active children, puts in just as many hours working at home. All juggle their schedules to accommodate the weekday matches, a schedule that seems to date from the time when "Mrs. Jones" played "Mrs. Smith."
<b>IN ADDITION</b> to the team league play, the 85-year-old WDCGA sponsors a series of individual tournaments throughout the golf season. Member clubs range from Argyle to Woodmore, and the team competition is the keenest in the Washington area.
Belle Haven Country Club finished second by one stroke in the Division II team competition.