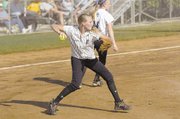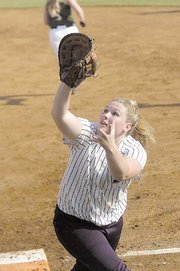 Whenever the South County softball team walks toward a field, they're reminded of two small rules and one collective groan. No boys and no cell phones. Or, as the girls put it, "no Bs and no Cs."
During games and practices both are prohibited, and it's as much because of team rules as it is a household understanding, mainly because three Stallion coaches moonlight as fathers to girls on the team.
Head coach Al Thompson, as well as assistants Gary Dillow and Paul Sbardella, do not try to control the girls as much as they just want them to be focused on the task at hand. That desire, coupled with the fact that they sleep under the same roof, has led to a rather family-like atmosphere.
"They're a lot like a little family," Thompson said after South County's season ended Saturday, June 6 with a 2-0 loss to Loudoun Valley in the Virginia AAA state semifinals. "We all know each other very well."
A lot of teams claim to be close. A lot of teams tend to have little idiosyncratic things that they do. But a lot of teams aren't like these South County softballers, both in the actual closeness and the lengths to which the Stallions go to keep it that way.
<b>SHORTSTOP</b> Meaghan Hunt was up fourth in the top of the sixth inning against Loudoun Valley, and there she stood, hanging out near the on-deck circle and dancing to "Love Shack" by the B-52s. The game was scoreless and tense, and Hunt would later face a two-on, one-out situation.
Though she struck out looking and Chelsey Dunham later flied out to end the threat, the point was made. On a team that winning has been ultra-important, with the Stallions amassing a record of 27-2 this spring, South County has also found a way to couple that with having fun.
"We all are really committed and we want to win, but we know how to have fun with it, too," said junior third baseman Stephanie Sbardella, who went 2-for-3 in the Loudoun Valley loss and was a first team All-Northern Region performer this season.
Sbardella was not part of South County's first-ever softball team in 2006, at least as a player anyway. She was a team manager and had a front row seat to watch the Stallions finish with a record of 2-13.
The next year, with Sbardella on the varsity squad, South County improved to 16-3. And that, the talented hitter said, was what brought this group together. Sbardella, Dillow and Dunham were all freshmen on that team, and they quickly realized what it would take to win.
<b>THE NO</b> Bs and no Cs rule only applies on the softball field. Thankfully. At team dinners or team outings, players are allowed to have their cell phones and text. They're even allowed to talk to boys, though a few on the coaching staff might prefer that not be the case.
But all rules are happily followed once the team arrives on a field. Both Dillow, Sbardella and their teammates relish the family-style atmosphere, saying that it helps them focus.
"It doesn't really bother me because when everyone has their cell phones out, it's easily distracting and it doesn't keep people focused," Dillow said. "It's good for softball"
On Saturday, South County allowed two runs in the bottom of the sixth inning, the result of two errors and a single from Loudoun Valley's Karli Johnson-Kemp to center field. But South County didn't crumble in a losing effort either.
South County will graduate four senior from this year's group, Hunt, Michelle Halsted, Kayla Reisinger and Ashley Ward, and the team has taken on the feeling that the younger sister might have when her older sister heads off to college.
"We all get along," Sbardella said. "We're the best of friends, and we hang out inside and outside of school. Coach Thompson and all the coaches are our family. Every time I say that it gets me all teary-eyed because not all teams are like that where you can call them your family."
<i>Connection Sports Editor Mark Giannotto contributed to this story.</i>