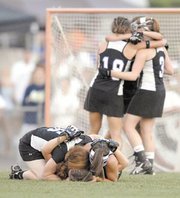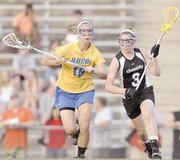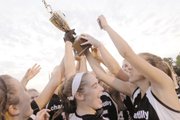 Michele Gates could only watch helplessly as members of her team dotted the lacrosse field at South County Secondary School on Wednesday, May 20. Chantilly had just lost its fifth straight district, region or state title game, and Gates knew that once again she'd have to gather her team and figure out something to say that would lessen the sting.
After a 10-9 loss to Robinson where Chantilly squandered a three-goal lead, Gates told her players to take off the rest of that week, the weekend and then Memorial Day. Forget about lacrosse for a while. Just come back fresh on Tuesday.
But during that time period the big-game losses started to gnaw at the fifth-year coach. Gates knew that she had a tremendously talented team, but she was also sick of re-runs. So she put her thoughts into words.
During a break from teaching that Tuesday, Gates started to write. She penned a letter and addressed it to her team, telling her girls to forget about the past and focus on the present. She promised that the Virginia AAA state tournament was the rebirth that everyone was looking for.
"I really wanted them to know how I felt about them because sometimes when I'm picking up the pieces of them losing, it's so hard," Gates said. "I don't think they realize how hard it is for me to watch them like that."
That awful feeling wouldn't return. On Sunday evening against Robinson in this year's state final, Chantilly erased all doubt by handing Robinson a 13-4 loss to garner its first-ever state title. Though a few Chargers ended up on the field, it was more a result of the typical, celebratory pile than a moment of heartache.
"It was such a good release of tension to see them win and not have to worry about picking up the heartbroken lacrosse players again," Gates said.
<b>OVER THE</b> past two years, no girls' lacrosse team has been more dominant during the regular season. Yet no team had also been as snake-bitten come postseason time. Before Saturday's game, Chantilly had a record over the past two seasons of 37-5 and all five losses came with some sort of trophy on the line.
According to senior midfielder Brittany Griel (Delaware), who scored five times during the route of Robinson, Chantilly's players did not overtly focus on the big-game letdowns. But it was something that they kept in the back of their minds, and it was a source of motivation.
"I think that's why we came out here and did not let up. It was all or nothing," Griel said. "Those five games just all came together into one, and we said that this has to happen. We didn't really think about the five championships, but in the back of our heads that was always something that's been pushing us."
Chantilly scored four times in the first five minutes and led 7-0 midway through the first half. Only when Robinson's Courtney Coleman scored at 12:27 did the Rams end the shutout.
The onslaught continued after Coleman's tally, as Chantilly also scored the next five goals. In addition to Griel's five, Erin Robertson and Kylie Chaplin each had a pair, and Katie Stillwell (William & Mary), Jessica Dennis, Liz Dunwoody and Lisa Comerford all scored once.
As Gates stood at the bottom of the stands at Westfield High School -- drenched in water, courtesy of the letter-readers -- seemingly everyone associated with the program stopped by to offer his or her congratulations. In school on Monday, someone even snuck into Gates' classroom to hang a banner. Field hockey coach Ralph Chapman photocopied flyers to commemorate state titles for both the girls' lacrosse and girls' soccer teams.
It was an outpouring of support that left Gates without any words to say or write. Seven would work just fine though.
"All the other ones," Gates said, "don't matter now."