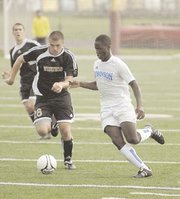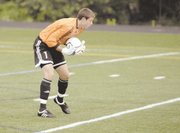 There's hardly a need to debate whether or not Irvin Herrera is a talented offensive player. Fast, agile and smart, Herrera scored 18 goals this season as a forward for the Westfield boys' soccer team, each one more impressive than the next.
But the one thing Herrera hasn't mastered yet is playing alone, without his offensive complement, Sean Murnane, who suffered what turned out to be a season-ending knee injury during the Bulldogs' Virginia AAA state quarterfinal win over Cosby.
Wearing warm-up pants and a pair of Vans during his team's state semifinal matchup four days later against Frank W. Cox -- on Westfield's home field -- Murnane was only able to offer advice to Herrera. Not an assist.
"Their back line focused most of their attention on him, and they saw that he was one of our stronger players," Murnane said. "With me not out there, they were able to focus a lot more attention on him and just him."
Added Herrera, "I knew going into the game that I wasn't going to be able to lay the ball to [Murnane] and get it back. Not having Sean playing up top with me, I knew I was going to have to try even harder to help get our team a win."
Try Herrera did. Still, the Bulldogs were unsuccessful, dropping a 4-0 decision that ended their 2009 season at 16-4. Herrera was an offensive force, often initiating an entire rush by himself, only to have his attempts thwarted by Cox goalkeeper Jonathan Harris.
<b>WESTFIELD DID</b> not lose because Murnane did not play. As a matter of fact, the next night Cox continued its dominance and captured its second state title in four appearances since 1994, beating Mills Godwin by a 2-1 score.
Meanwhile, Westfield was satisfied to have had such a lengthy stay in the state tournament. Despite not winning either the Concorde District or Northern Region -- the Bulldogs did have the district's best regular-season record -- Westfield was the area's last boys' soccer team standing.
When Murnane was first injured against Cosby, the force caused by a defender crashing into his leg did not cause enough damage to slow him down. He continued toward the goal and eventually pushed a shot into the back of the net with eight seconds left in the fourth overtime period, lifting the Bulldogs to a 1-0 win.
But after the game, Murnane started to worry. He told Torres that an MRI was a distinct possibility and packed his right knee with ice.
Torres didn't commit to whether or not Murnane would play against Frank W. Cox; he only hoped. Sure, Murnane was the Northern Region's Offensive Player of the Year and had scored 23 goals for Westfield this spring. But he also has a scholarship to play soccer at University of Virginia and a shredded knee doesn't exactly bode well for a freshman's playing time.
"It was definitely very tough," Murnane said of watching from the sideline. "But I couldn't really walk, and I couldn't really bend my knee. If I was out there on the field, I would've probably been more of a waste of space and I would've hurt my team more."
<b>AGAINST COX,</b> Westfield started strong. Herrera was flying around and made several runs at the Falcons' goal. Because Cox employed a 4-5-1 formation -- with four defenders, five midfielders and a forward -- Torres decided to mirror that with Herrera.
The runs were working, although Herrera wasn't able to break through.
"That team was great," Torres said. "You can't take anything away from them. But obviously we would've liked to have finished our chances."
Cox scored its first goal in the 14th minute, with Hunter Byrnes polishing off a left-side cross from Will Martin. From that point, Westfield was still confident that it could hang with the Falcons, but the next goal "broke the sails," Torres would say later.
With a little more than two minutes left before halftime, Martin came streaking up the left side and made a move on Westfield goalkeeper Kody Palmer. And after Palmer's initial stop, the ball slipped to the right to a waiting Paul Braunstein, who slid and tapped it past Palmer for a 2-0 advantage.
From there, deflated, Westfield surrendered two second-half goals and never was able to resuscitate its offensive push from earlier.
"The most important thing is that I just don't anyone to say, 'Just because Sean wasn't here,'" said Torres, who lost 16 seniors and eight starters from last year's 13-3-2 team. "Those guys worked very hard all season long and we were obviously very young."