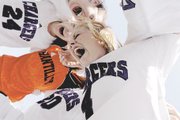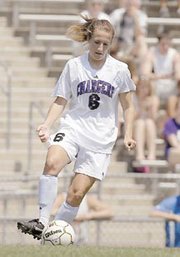 Six weeks ago, Katie Menzie sat in a conference room next to Chantilly's gymnasium unsure whether she'd even practice later that day.
With two calves that couldn't stop cramping and a full hour of running ahead, Menzie had just finished some physical therapy with one of the school's trainers. She would eventually take part in only select portions of that day's workout, which was moved indoors because of rain.
Four days ago, with her Chantilly girls' soccer team in the Virginia AAA state championship against Mills Godwin, Menzie, a senior midfielder, was more than a part-time participant.
The James Madison recruit scored the Chargers' first goal, controlled the midfield along with teammate Cortlyn Bristol (William & Mary) and walked away from the field at Westfield High School with a rather large trophy that served as a symbol of her team's 2-1 victory Sunday afternoon.
"Everyone really wanted this game and we were all looking forward to it," said Menzie, whose goal came from the middle of the field just outside the 18-yard box. "I knew before this game, I was extremely pumped and it kinda spread. Everyone was so excited."
<b>MENZIE WAS</b> only one small part of the Chargers' dominant second half of the season, though. Around mid-April, Chantilly was saddled -- like most teams -- with a laundry list of injuries. Bristol sustained a concussion. Both of Menzie's legs throbbed every time she ran. Lauren Yates and Morgan Schack were also recovering from concussions at the time.
Meanwhile, Chantilly started to fight through it all and morphed into the group that second-year head coach Melissa Bibbee thought she had all along. The Chargers had lost hardly anyone from last year's 12-5-2 team, which reached the Northern Region semifinals. Surely, now, they could challenge for district, region and state honors.
Done, done and done.
In a 1-0 win over Robinson on May 15, Chantilly earned the first of its postseason trophies, defeating the Rams on penalty kicks. Two weeks later, Chantilly topped Oakton, 1-0, in the Northern Region final with a goal from Kristen Melchiori, who scored for the fourth time this postseason.
And after state quarterfinal and semifinal wins over Atlee (1-0) and Kempsville (3-0), respectively, Chantilly (20-2-1) found itself lined up against Central Region champion Mills Godwin, which had beaten Oakton and Frank W. Cox to reach the state final.
<b>THE CHARGERS</b> wasted little time in capturing the game's momentum. In the first half, Chantilly fired 12 shots, six of which that were accurate enough that they had to be stopped by Mills Godwin goalkeeper Jessie Ashworth.
One wasn't.
Menzie, after corralling a deflection, lined up and buried a right-footed scorcher, scoring in the game's 24th minute.
"She does so many things for us," Bibbee said of Menzie. "She's just a great leader, a great role model for the other kids. All my seniors, they're great role models."
Colella doubled the Chargers' lead in the 43rd minute. Lined up to the far left, Colella hooked a shot that caromed off of a Mills Godwin defender and found the back of the net. Chantilly outshot Mills Godwin, 29-6, enabling Marie Krider's 68th-minute goal to do little more than alter the box score.
Six weeks removed from a series of injuries that threatened to derail Chantilly's hopes this season, Menzie and Co. completed a postseason run that netted the team's first district title since 2000 and first-ever region and state trophies.
"It's been so much of a change," Menzie said of her team's second-half surge, which included a 12-game winning streak to end the season. "It's not just me but the whole team. Everyone stepped it up. We've played real well together and especially these past few games."