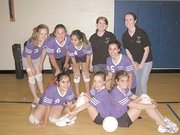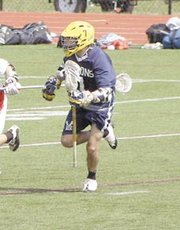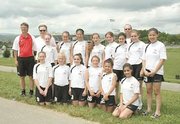 <b>House League Champs</b>
The Southwestern Youth Association's "Team Purple," coached by Eileen and Erin Rafferty, won the seventh- and eighth-grade House League Championship on May 20 in a tournament held at Liberty Middle School. The team won the championship match in three games after several rounds of competitive play throughout the tournament. The team finished in first place during the regular season with a record of 25-10. The girls worked hard all season and were thrilled to see their hard work pay off in the tournament.
<b>All-State Honors</b>
Virginia Run resident Alex Nieves just completed his senior season on the lacrosse field at Notre Dame Academy in Middleburg. The team captain finished the year with 59 total points (24 goals, 35 assists), 69 ground balls and won 64.9 percent of the draws he took. For his efforts, Nieves was recently recognized as a first team All-Maryland Independent Lacrosse League (MILL) selection, and he was also a first team All-State selection within the Virginia Independent Athletic Schools Association. Nieves will play lacrosse next season at Division III Salisbury University where the Seagulls have won eight NCAA national championships.
<b>Honored at NVCA</b>
The Northern Virginia Christian Academy (NVCA) boys' basketball team went 20-5 this past season and garnered several awards from the National Christian Schools Athletic Association (NCSAA). Head Coach Jerry Cuffee was named the NCSAA's National Coach of the Year, as he was among 54 coaches nominated for this prestigious award. Junior forward Sam Rattray, who averaged 12.4 points and 7.7 rebounds per game, made the Smalls Schools (Division 3) All-American Team. He was a first team selection. Senior point guard Bobak Sharifi and Rattray were both selected to the North East Super-Regional Team. Sharifi averaged 9 points per game, to go along with his other marks of 3.1 assists, 3.5 steals and 3.5 rebounds per contest.
<b>Walk or Run or Both</b>
The 10th Annual Tim Harmon Memorial 5K Run/Walk will be held Saturday, June 13 at 8:30 a.m. at the Fairfax County Government Center. Prizes will be awarded to the top three male and female finishers and the top age-group finishers. More than 100 medals and trophies will be presented. Door-prizes will also be awarded. Register at www.racepacket.com. Entry fee is $21 and participants receive commemorative T-shirts.