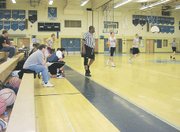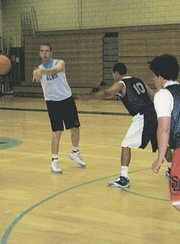 There were mere minutes before Jeff Fallon's team of 10 freshmen was scheduled to take the floor for its semifinal basketball game at Yorktown High School last Thursday night and still, there was no opposition in sight.
Having upset an older and bigger team primarily from Washington-Lee the week before, "Team Fresh" had been awaiting a chance to show its victory in the quarterfinals was no fluke. But with no team on the other bench, the proving ground had turned into a waiting game.
It was the perfect example of what Arlington's Late Night Basketball program, about to complete its 20th year of existence this Friday night, is all about. A laid back atmosphere that infuses fun and competition in a way high stakes AAU or other travel leagues can't emulate.
"Everybody walks right in the door at game time," said Fallon, who is in his first year coaching, or more accurately "organizing" his son, Nick, and friends as he watched another game finishing up from the stands. "That's just the way it is here."
The league, which is run by the Arlington County Department of Parks, Recreation, and Cultural Resources, is advertised as a "positive alternative for Friday night teen activities." This year, more than 20 teams representing all three Arlington public high schools signed up and were separated into two different age groups.
It not only further stokes rivalries that already existed between Wakefield, Yorktown, and Washington-Lee, it also creates match-ups that wouldn't exist otherwise. In the first semifinal Thursday night a team of Yorktown juniors, the "Channel 4 News Team" went up against a team of Yorktown seniors, "The Militia."
"Kids just come in here to have a great time," said Will Carey, a Yorktown senior and player-coach of "The Militia" having participated in the late night league for four years. He has used the league to broaden his interest in someday becoming a basketball coach. "And you've definitely got some on-the street kids who come in here to play basketball and that's a great thing."
<b>BOTH CAREY</b> and Yorktown junior Mike Veith were starters for the Patriots' varsity basketball team this past winter, but found themselves on opposite sides of the court Thursday. League rules stipulate that each team can only have three varsity players, which helps keep every squad balanced, therefore making blowouts less likely.
Veith, a junior, led his "Channel Four News" team to a 57-42 victory over the senior laden "Militia," giving them a spot in this Friday's final against "Team Fresh," which overcame the early delay to defeat Cool Breeze in an exciting 58-56 contest that closed the night.
But afterwards, both Veith and Carey remembered back to when they used to come watch the late night basketball action like the 25-30 people in attendance Thursday. Carey didn't realize until after his game was over that it might be the final basketball he plays at Yorktown with high school graduation only days away. He recalled his freshman year when Wakefield star George Johnson was one of the many Arlington standouts that used to dominate the late night league.
It's that community atmosphere that has brought back players like Carey for years. Many of those participating this year play in Arlington recreational basketball leagues, the late night league, and know of one another from various other sporting endeavors.
Carey thinks the league isn't quite as competitive as it used to be when he was younger, but admitted, "it's a lot more fun now that we're winning."
Veith echoed that sentiment, as he recalled the loud rap music that used to blast through Barcroft Sports and Fitness Center until around midnight.
"It used to be rowdy here," he said.
<b>THIS SEASON</b>, most of the action was scheduled for earlier in the evening with the latest games finishing up around 10 p.m. It begged the question whether the league still serves its purpose as a way of helping area teenagers avoid the violence and petty crimes that are more prevalent at night.
Players and coaches in the league both acknowledged the earlier start times may have taken from the program's mission but said the sheer fact that there is a league every Friday gives youths something to look forward to, just another deterrent from ending up in a bad situation.
"It gives us something to do," said Wakefield sophomore Thomas Taylor. "Instead of finding some trouble, we can play basketball."
The finals for both the 9th/10th grade division and 11th/12th grade divisions will take place this Friday night at Wakefield.
"I think it's just a good way of organizing people from all over Arlington County to play basketball," said Mike Long, a senior from Yorktown. "It's still a high level of play and there's definitely some passion out here."