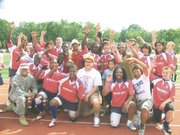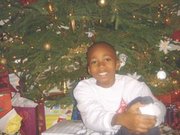 <b>T.C. Williams Wins Rugby State Title</b>
The T.C. Williams rugby team captured its first-ever state title this past weekend, shutting out Menchville of Newport News, Va., 28-0, on a game played in Alexandria on the Titans' home field. It was the first time that two school clubs would vie for a Rugby State Championship in the two-year-old Rugby Virginia League.
T.C. Williams was led by inside center Abu Kamara, who got the scoring going with two tries in the first half. Down 14-0, Menchville was able calm the tempo of the game, retain possession of the ball, and make forays near the TC Williams goal line, only to be pushed back by a strong TC defense.
The game entered halftime with a 14-0 score. Menchville battled in the second half to get back in the game. Near the end of the second half, TC Williams was able to build on its lead and finish the game with two more scores from Brandon Burke at the 61st minutes and another from Kamara in the 63rd minute.
It was the first time that TC Williams won a title as part of the two-year-old Rugby Virginia League. Led by coach Jeff Murphy, T.C. Williams will build on this win with their deep roster, youth, and quality coaching provided by Coach Jeff Murphy.
<b>Youth Track Star</b>
Alexandria resident Bobbie Parham, III, a 9-year-old fourth grade grade student at Patrick Henry Elementary School shined at a recent youth track meet on June 6. At last weekend's district youth track meet, which included athletes from all over Northern Virginia, Parham took first place in the 100-meter dash and third place in both the 4x100-meter relay and the long jump. He had advanced to the district meet thanks to three second-place showings at an earlier Alexandria city meet. He has now advanced to the State track meet and will represent Northern Virginia as the top male runner for the 9 and ten-year old boys' age group in the 100-meter dash.
<b>Swim Results</b>
The NVSL summer swim season is right around the corner and the Gazette Packet doesn't want any child's achievements in the pool to go unnoticed. To have swim team results posted in the Gazette Packet each week, contact sports editor Mark Giannotto at mgiannotto@connectionnewspapers.com.