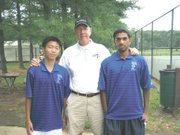 Sidarth Balaji had about 30 minutes to clear his mind of a Virginia AAA state semifinal loss to Kyle Parker of Mills Godwin last Friday, June 5 before his services were needed on the doubles court at Fairfax Racquet Club.
His partner, sophomore Jason Luu, knew that Balaji's frustrations would probably boil over into the duo's semifinal match with Parker and teammate Kevin McMillen. Luu, who's counted upon to run down shots and feed into Balaji's power, knew that he would have to shoulder a bit more of the load this time around.
"I just tried to tell him that this is doubles now, you can still win a state championship," Luu said. "Put it all on the line and just focus on tennis."
Balaji and Luu held it together for one set, winning by a 6-2 score. But in the second set, with the quality of play gradually decreasing, the pair faltered, 1-6.
"We just totally lost it and we got pretty much destroyed," Luu said of the second-set loss.
But something happened as Parker and McMillen tied the score: Balaji let it go. He started to tell himself to focus on the present. Worrying now wasn't going to reverse the 6-2, 7-5 loss to Parker. If he didn't start to focus on doubles play, he'd have two state tournament disappointments to mourn and no court on which do it.
"I knew that I had a new doubles opportunity, and that I should grab onto it and do the best I can with Jason," said Balaji, who'll play his collegiate tennis at Northwestern. "The doubles match was really close, and I felt like if I didn't focus on the match then it would definitely be tougher."
The Fairfax pair regrouped and Parker and McMillen forced a tiebreak, which Balaji and Luu eventually captured by a 7-4 margin, advancing to the state finals. In the state title match, Balaji and Luu would face Justin Shane and Daniel Santos of Stuart the next day, June 6, at Jefferson District Park in Annandale.
<b>ACCORDING TO</b> Fairfax head coach Dave Bauer, neither team played its best tennis during the semifinals. Balaji and Luu committed many unforced errors and, essentially, his pairing hung on just enough to outlast Parker and McMillen.
While the performance may not have been aesthetically pleasing, it was helpful to the Fairfax pair nonetheless.
"I think Jason and Sidarth did a good job of playing through a bad situation to get to the finals," Bauer said. "It was a testament to [Balaji] that in spite of playing poorly and in spite of battling emotional frustrations, he and Jason were somehow able to persevere and come out on top.
"Once you get through a difficult match and maybe you win a match where you weren't at your best, it gives you motivation there in the finals. I think that difficult semifinal match helped them concentrate more and helped them play better in the finals."
That final was a tad less strenuous. Balaji and Luu, with a 16-0 mark for the season, defeated Shane and Santos in straight sets for 7-5, 6-4 win. In that match, Balaji and Luu made a concerted effort to attack Santos, who was playing opposite the state champion in Shane.
Balaji and Luu also didn't want to do too much or try to hit every ball through a brick wall. If they stayed within their capabilities, Luu said, no one doubted that they would eventually become state doubles champions.
<b>BALAJI, BAUER</b> and Luu all agreed on one thing: having Luu as a steadying influence helped. When Balaji made an unforced error and or a shot, Luu was there to tell him to stop thinking about the singles loss.
When Luu did something to help the pair, Balaji would immediately benefit from something that he didn't even have to do.
In singles matches, a player can often be overcome with emotion, both in good ways and in bad -- a shot that just sneaks inside the white line invokes and emotional high, while one that missed is crushing.
"Doubles helps," Bauer said. "Partners can create a more even-keeled environment. With singles, you get the real highs and the real lows, whereas with doubles you have to keep it more even keel. I'm glad it was a doubles match that followed."
"In doubles, I have Jason as my partner, and he can always keep me in check and keep me from thinking about the past," said Balaji. "Having a partner definitely helps you in doubles and from thinking about a previous loss."