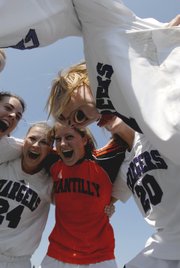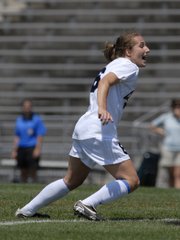 Forced to put her emotions into words, Chantilly girls' soccer coach Melissa Bibbee came up empty. It was only minutes after she was presented with the Virginia AAA state championship trophy, and Bibbee started and stopped more times than a 1987 Chevy Nova in the winter.
"I still don't know what's going on," Bibbee said Sunday afternoon, June 7 at Westfield High School. "It's awesome."
A few minutes later as she approached the sideline, Bibbee received the requisite Gatorade shower from her waiting team. Now soaked, she found a few words to express those feelings, even if they weren't relative to winning a state title.
Fortunately for Bibbee and Co., such shock didn't tell in until after the game.
In a matchup with Mills Godwin of the Central Region, Chantilly dominated play for the better part of the game and got goals from Katie Menzie and Olivia Colella en route to a 2-1 win, producing the program's first-ever state title.
A team from the Northern Region has now won 19 of the past 21 state championships.
"It's been a great season," Menzie said. "I'm so proud of everyone. It was a great way to go out."
<b>MENZIE STARTED</b> the scoring in the game's 24th minute, taking advantage of a fortuitous bounce at the top of the 18-yard scoring box.
The shot was one of five for Menzie, who also had an assist during the Chargers' 3-0 win over Kempsville Saturday in the semifinals. After corralling a deflection, Menzie turned and found herself with an open, straight-ahead angle at Ashworth.
Two quick touches later, Menzie fired a shot that beat Ashworth and gave Chantilly a 1-0 lead.
"She's phenomenal," Bibbee said of Menzie. "She had a lot of shots. Only one went in, but she had a lot of shots."
Next up was Colella, who was stationed to Ashworth's right in the game's 43rd minute. In the far corner. Too far away -- and at such a severe angle -- to possibly score. Or not.
Colella lofted a shot that appeared to be intended for Kaitlyn Manley, who was hugging the far post. But on the way, Colella's shot ricocheted off a Mills Godwin defender and finally came to a stop in the back of the net. It was also the second goal in as many days for Colella.
Twenty-five minutes later, Mills Godwin would get on the board, courtesy of a Marie Krider goal in the 68th minute, but Chantilly allowed its opponent to get no closer. In 80 minutes, Chantilly (20-2-1) held a 29-6 advantage in shots and goalkeeper Lauren Jancuska was only forced to make one save.
So while Bibbee, who coached at Langley for 10 years before moving over to Chantilly, might've been at a loss for words to describe it, the fact remains that Chantilly returned nearly every impact player from last year's 12-5-2 team and reached a goal that within the program thought they could achieve.
"You always have goals in mind. In my first year, we went to the region semifinals and lost to Robinson," Bibbee said. "Our message this year was, 'Look, we're returning almost everybody. We can do this.'"