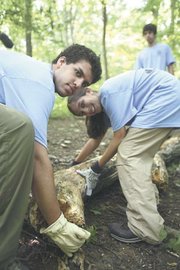 Lace up those hiking boots and come on down. The American Hiking Society is celebrating its 17th annual National Trails Day at the Elizabeth Hartwell Mason Neck National Wildlife Refuge in Lorton, on Saturday, June 6.
The largest nationwide trail celebration in America, the event helps to promote healthy lifestyles, connect the public with trails in their communities and build partnerships to protect trails.
"What's great about this particular event is there's a whole array of activities, so everybody can find something to participate in," said Margie Cohen, marketing director for the American Hiking Society.
The event will offer a variety of outdoor recreation experiences on Mason Neck including family hikes, paddle excursions, trail construction and revegetation projects, birding and interpretive hikes, and a handicapped-accessible hike.
"It's a great spot to come out to be part of the kick off celebration for all the events around the country," said Heather Sable, trails program manager with the American Hiking Society. There's accessible trails for the handicapped, barbecue pits, and tenting areas for learning about trails.
For those who want to give back to the parks, there are several trail maintenance projects going on throughout the day — from invasive species removal to clearing of pathways. The activities at Mason Neck are part of some 1,200 events taking place across the U.S.
"It takes a lot of community volunteers to take care of our trails," said Cohen. "It's a great myth out there that hiking trails somehow happen, and they somehow take care of themselves, and that's not the case."
Hosted with the U.S. Fish and Wildlife Service/National Wildlife Refuge System, Bureau of Land Management, National Park Service, Virginia State Parks and Northern Virginia Regional Park Authority, the celebration kicks off at Mason Neck State Park, 7301 High Point Road, Lorton, at 9 a.m. with a welcoming ceremony, followed by activities throughout the day. Secretary of the Interior Ken Salazar and U.S. Rep. Gerry Connolly (D-11) will be on hand.
For more details, go to www.AmericanHiking.org or call 301-565-6704.