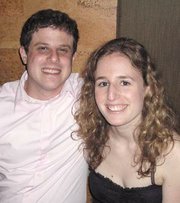 Nancy and Doug Kay of Potomac and Niza and Rami Preis of Baltimore are pleased to announce the engagement of their children, Julia B. Kay and Ido S. Preis.
Julia and Ido both hold undergraduate degrees from Brown University, where they met.
Ido also holds a medical degree from Brown and is currently a resident in internal medicine at Boston University Medical Center. Julia works in the Boston life sciences practice of pricing consultancy Simon-Kucher. This fall, she will begin a joint MBA and biomedical enterprise program at MIT Sloan and Harvard Medical School.
Julia is the granddaughter of Lois and Robert Kay of Rockville, MD, and Faye and Bernard Rosenberg of Annapolis.
Ido is the grandson of Avigdor and the late Bella Preis of Haifa, Israel and the late Saul and Malka Rotberg of Tel Aviv, Israel.
A 2011 wedding is planned.