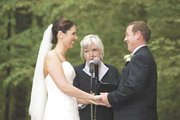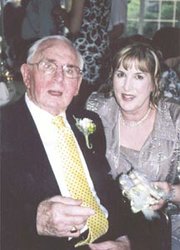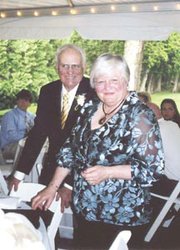 The bride and her father appeared in the shadows of the trees. They walked down the path, through the woods where the bridal party, the officiant and bridegroom waited. From where the 150 wedding guests were seated, on the lawn next to a fish pond encircled with candles, it was reminiscent of a scene from a romantic novel.
But, this was reality, when Christine "Christi" Phillips and Chad Michael Mitchell, representing three generations of two Potomac families, were united in marriage on the grounds of Stronghold Mansion at Sugarloaf Mountain.
The Mitchell family name has been synonymous with Potomac since Chad's grandfather Clyde Mitchell was the "Mitch" of Mitch and Bill's Exxon (now Texaco) station opened at the Potomac crossroads in 1949. Christi's dad, David Phillips, moved to Potomac as a youngster 58 years ago when his mom, Winnie Gordon, and step dad, the late, Bill Gordon, moved to South Glen Road.
Like her dad, Christi grew up on the back of a pony, joined the pony club and competed in horse shows. Chad, a Bullis School graduate, continued his family's tradition in the gas station business, presently working with his dad, Mike Mitchell, who hosted the rehearsal dinner party the evening before the wedding at O'Donnell's, Kentlands.
To continue the hometown saga, it was when Christi, a graduate of the University of Maryland, was in school, she worked part time at The Surrey, located a few steps down the hill in Potomac village, from the Mitchell's Texaco station. "I used to do the soft drink run for the shop and saw him one day. I thought he was kind of cute," she recalled. Needless to say the soft drink missions became more frequent. "He finally asked me out," she said.
Her encouragement culminated at a beautiful 4:30 p.m. service on May 9, where the bride wore a strapless, full length, multi-layered gown with a beaded bodice and a fingertip tulle veil. The bridegroom, who chose his Potomac friend Andrew Seaton as best man, was accompanied down the wooded path by his dad, Mike, and grandmother, Marie Guthridge. He, like the ushers, Michael Phillips and Charles Moore, wore dark suits, and dark ties with silver accents, the latter quite significant. Four little boys, in the wedding party, Justin, Cody and Josh Tice, and Josh Johnson, all under 8 years old, and the junior groomsman, Zachary Johnson, were all in dark suits and wore bright silver bow ties.
Anyone planning a formal wedding with five young boys in the wedding party has great courage. These guys did not disappoint. Josh Tice and Josh Johnson were in charge of the Monarch butterflies. They each had an enclosed box, and at the proper signal released the Monarchs, well almost. Some refused to go at first but were enthusiastically persuaded by their handlers that they better get out or get unceremoniously dumped.
"The butterflies were in honor of relatives no longer with us," the bride said. Among those mentioned was Chad's late mother, Donna Mitchell.
Twin brothers, Cody and Justin Tice, the bride's nephews were ring bearers. As Cody made his way down the bridal path he stopped to pick up sticks en route. Following the ceremony, his mother, Deana Phillips Tice, reminded him it wasn't part of the rehearsal, and wondered why he did it. "Because I didn't want Aunt Christi to have to step on them," he explained.
Mother-of-the-bride, Barbara Asher, escorted by her son, Michael Phillips, chose a satin empire-styled gown with a beaded jacket. The metallic clay color of her gown was a complement to the taupe dresses with spaghetti straps and perky back bows worn by the bridal attendants, matron of honor Heather Moore, and bridesmaids Katie Sullivan-Rosende and Rachael Phillips. The silver motif was again apparent. Their shoes glistened, as did those worn by the bride's stepmother, Lyne Morgan. It was what one might call a sterling wedding.
The formalities concluded without a hitch. Some consider the graceful fainting of a wedding party member unusual, but the officiant, Deborah Cathers, remarked, "Don't worry, this happens frequently,"
As the reception got under way in a huge white tent, guests perused a display of frosted, almond flavored cookies that doubled for place cards. Each cookie was inscribed with names and table numbers. Naturally, the most significant was of the bride and groom. It read, Christi and Chad Phillips! Don't you love it?
When dancing followed cocktails and dinner, nothing personified the warmth of this wedding more vividly, than the sight of the bride's grandmother, Winnie Gordon, 92, constantly surrounded at her table by attentive grandchildren and great-grandchildren, and Chad's grandfather, "Mitch," 83, who was escorted in his wheelchair to the dance floor by his granddaughters, Lindsay and Ashley Bowling, where they danced around him.
It was the moment silver slippers turned to gold.