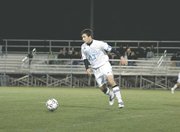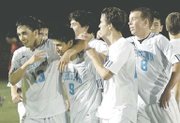 Asked how to describe the beginning parts of his senior season earlier this spring, Yorktown captain Seamus Hooban tried to avoid being too harsh about the Patriots 1-4-3 start to the year. After a moment of consideration, his answer goes to show just how unlikely a run his Yorktown team made to become the most successful National District team in any sport this spring.
"It was poor," said Hooban. "Going into the season, we had a lot of talent. It just took us awhile to play that way."
And even though the Patriots season came to a close in the Northern Region semifinals for a second-consecutive year — this time with a 2-0 loss to Westfield — that awful beginning seems a long way off now.
The Patriots entered last Wednesday having won nine of their previous 11 matches, including a six-game winning streak that had carried them to a third-straight National District title and a spot in the regional semifinals — a distinction no other National District team in any sport this spring can lay claim to.
Much of that was done without last year's Northern Region Player of the Year Alex Herrera, who played just four games this season with ankle injuries and missed the regional finals with a knee injury suffered in Yorktown's first-round regional win over Lee.
<b>THE PATRIOTS</b> got to the regional semifinals thanks to a tense, 2-1 victory over Centreville in the quarterfinals, setting up a rematch of a 2-0 regular season loss against Westfield. But early on in the first half, Yorktown looked to be the Bulldogs equal.
Both teams had only a few first-half chances as each felt their way around the Madison High School turf field, which had smaller dimensions than the usual soccer pitch.
But Yorktown broke through after halftime, generating several opportunities within the half's first few minutes. First it was Wynton Rose's long distance shot that sailed just over the crossbar and set up two separate corner kicks. Then senior Sergio Mejia fired a left-footed shot that was saved by Westfield goalie Ryan Krum.
"We had three chances in the first 10 minutes that should have been goals," said coach David Wood. "The kid made some good saves and I think that's why we're on the losing side. I think if one of those goes in, we win the game."
Westfield took advantage of Yorktown's missed opportunities midway through the second stanza. The Bulldogs' Sean Murnane, this year's Northern Region Player of the Year and club teammate of Herrera, collected a thru ball in the offensive zone and tried to elude the grasp of goalie Max Von Schrader rather than fire a shot past him. Von Schrader got his hand on the ball but Murnane kept the possession and somehow circled around to aim an odd angle shot perfectly in between three Yorktown defenders that had set up a wall on the goal mouth with their keeper scrambling back into position.
Senior Jack Rafferty would add a beautiful 22-yard left-footed fireball of a shot in the waning minutes to seal the deal, giving Westfield a 2-0 victory and a spot in the regional finals, a game the Bulldogs lost to Robinson this past weekend. Yorktown also lost to Westfield, 2-0, during the regular season.
<b>THE FIVE SENIORS</b>, though, won't be remembered for that last loss. Those on the team point to a stretch before spring break, in which the Patriots reached their low point with three-consecutive losses to rivals Wakefield, Edison, and Washington-Lee by a combined 13-1 score as the turning point that made the late-season run possible.
Wood also made some lineup adjustments. Early on, Yorktown was starting six underclassmen, but following those three midseason thrashings, Wood inserted some more experienced players into the lineup. The difference didn't come in goals or talent, but rather chemistry.
"It's hard to have a couple guys come together in the span of maybe a week and put it all together," said Shamus. "It's more about bonding and getting to know one another, and then it becomes almost second nature."
And though Wood has 20 players returning next year, some of whom got significant playing experience since the Patriots suffered a litany of injuries over the course of the year, he won't soon forget the recovery from that less than stellar start to the season and the three-consecutive district titles his senior class was able to produce.
"They've set the standard for what we expect at this school," he said. "They've done great the last three years."