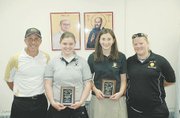 <b>Un-Dowd-edly Good</b>
In a year's time, Fairfax senior Frances Dowd went from the back of the pack to the front, winning her first Virginia AAA state title in the 800-meter run Saturday, May 30, with a time of 2 minutes, 12.09 seconds.
Just a year ago, she finished 27th and even surprised herself with the finish this spring.
"It was unbelievable," Dowd said. "I didn't expect to do that well. It's an awesome feeling of accomplishment. "
The race featured two previous state champions and two other girls who had beaten Dowd earlier in the season. Fairfax head coach Mark Whalley said that it was one of the more competitive state 800 races in the past few years.
Dowd stuck to her pre-race routine of a warm-up, drills, stretching and visiting with other athletes, but admitted she was really nervous.
Adding to the jitters was the fact that the race had a different start than most 800 races, with runners in individual lanes instead of the usual waterfall start. This made for a fast first 200 meters, as runners didn't want to be out of the race at the break point. Dowd stayed in position though, crossing the midway point in fourth -- and exactly on her goal split of 66 seconds -- before taking the lead with 300 meters to go.
"She didn't focus on the outcome," said Whalley. "She focused on what she was trying to do, stay out of trouble, not get boxed in and work the second half."
Dowd set school records in both the 800 and 1,600 this season. She was the Concorde District champion in both events and the Northern Region champion in the 800. She will run for Virginia Tech next year.
<b>Bruin Relay Takes First</b>
The Lake Braddock girls' 4x800-meter relay team of Kelly Hagan, Casey Lardner, Taylor Moore and Liana Epstein (along with reserves Becca Sinichko and Megan Bumgarner) finished first this past Friday, May 29 at the Virginia AAA state outdoor track and field championships in Newport News. The foursome clocked a time of 9 minutes, 19.11 seconds. As a team, Lake Braddock finished ninth with 24 points, while Landstown captured the state title with 73. Epstein took second in the 1,600 run with a time of 5:01.66, while Sinichko placed third in the 300 hurdles at 43.77. On the boys' side for Lake Braddock, Matt Hoogland's fifth-place pole vault mark of 14 feet served as the top performance.
Genamarie McCant of Robinson placed fifth in the 400 dash at 56.71, and Joey Muzzio was sixth in the high jump at 6-06. Hayfield's Megan Clark tied for sixth in the pole vault with her mark of 10-3, while Jefferson's 4x800 relay team of Ronit Malka, Katherine Sheridan, Stephanie Marzen, Kimee and Moore finished second at 9:25.42. West Springfield's 4x800 relay team (Alex Watt, Paige Kvartunas, Anna Barber and Sarah Lepley) was fourth at 9:33.53.
The Edison boys' team tied for 15th place with 14 points, while Western Branch won it all with 62. Tihut Degfae took third in the 800 with a time of 1:55.62, while his twin brother, Leoule Degfae, placed fourth in the 1,600 at 4:15.61. With a time of 8:01.24, the Edison boys' 4x800 relay team of Amit Vohra, Leoule Degfae, Teddy Holmes and Tihut Degfae finished sixth. On the girls' side, Myah Hicks finished second in the 800 (2:12.29) to propel the Lady Eagles to a 25th-place finish with a total of eight points.
<b>Nguyen a Duke</b>
South County senior tennis player Michelle Nguyen recently signed with James Madison University. In four years, Nguyen compiled a 48-0 record against Patriot District opponents during the regular season and won four district titles. This season, Nguyen led the Stallions to a 15-1 record as they split the Patriot District crown with Lake Braddock. "We are very excited to add Michelle to our new incoming freshman class," said James Madison women's tennis coach Maria Malerba in a press release. "I believe she will add valuable depth to our singles lineup while also having an impact in doubles play. Her best tennis will definitely be at the college level."
<b>Quite an Honor</b>
Five years removed from inheriting an Edison girls' cross-country team that included only one runner, head coach Bernadette Flynn brought the first National District title in program history to Edison last fall. Now, she has been honored as the Coach of the Year by the Fairfax County Women in Sports Award Committee and the Women's Sports Foundation for Outstanding Achievement in Women's Sports for 2009. Flynn was presented with the award in a ceremony at the Fairfax County Government Center on Tuesday, May 26. In addition to serving as an assistant coach with the indoor and outdoor track and field programs, Flynn, with 26 years of coaching experience, has also been a teacher at Mark Twain Middle School for the past nine years. At the awards ceremony last week, Edison senior Betel Yosef was recognized as the school's Sportswoman of the Year.
<b>The Award Goes To …</b>
Edison graduate Jamie Wargo was named the Misericordia University Woman of the Year following her career as an eight-time letter-winner for women's lacrosse and field hockey. Located in Dallas, Pa., Misericordia competes at the Division III level and within the Freedom Conference for field hockey and the Middle Atlantic Conference for women's lacrosse. Wargo was a first team All-Freedom selection last fall for field hockey, playing all 21 games for a Cougar defense that allowed an average of 2.32 goals per game. On the lacrosse field, she totaled 24 goals and a team-high eight assists this past season, earning team MVP honors for the second time. Off the field, Wargo was named the MAC's Scholar-Athlete of the Year after posting a 3.73 GPA while majoring in physical therapy. She's made the Dean's List eight times and captured four Excellence Awards for athletics and academics. The Springfield resident also volunteers with Adopt-a-Highway, Moms for Miles and Walk MS.
<b>Sign Up, It's Free</b>
On Saturday, June 6, the Hanover Insurance Group will team with the Major League Baseball Players Alumni Association to sponsor a free youth baseball clinic for 250 children ages 6-15. The camp will run from 9 a.m.-1 p.m. at George Mason University and will feature former professional players Jim Kaat, Paul Blair, Fred Valentine, Jim Hannan, Jim Coate and Harmon Killebrew. In addition to a series of fundamental stations throughout the morning, players will be given a Rawlings baseball and a chance for autographs with the pros. Registration for the event, which is open to all boys and girls but will be capped at 250, can be completed at www.baseballalumni.com.
<b>Lacrosse Academies</b>
Academy International will host two week-long lacrosse academies for girls at Cooper Middle School in McLean Aug. 3-7, from 9 a.m.-12 p.m., and Aug. 10-14, from 4:30-7:30 p.m. A field hockey camp will also be offered at Washington-Lee High School in Arlington July 27-31. Coaches from Canada and Great Britain will group players by age and skill level to customize training and make playing lacrosse fun. To learn more or to register, visit www.academyinternational.net or call 703 816 0244.
<b>Lacrosse Tryout</b>
NoVa West Lacrosse is conducting registration for its summer camps, clinics and indoor league play. Camps and clinics will be in June and July. NoVa West, as the exclusive provider for lacrosse in the new Purcellville Sports Pavilion indoor facility, will be hosting summer, fall and winter indoor leagues for U-13, U-15 high-school age boys. For more information or to register, www.NoVaWestLAX.com.
<i>The Connection's Alexis Deegan contributed to this report.</i>