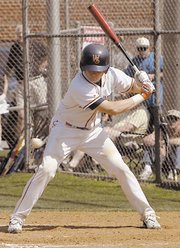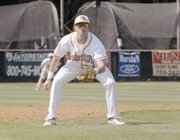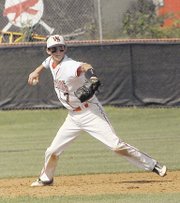 When Lake Braddock's Brian Derner and West Springfield's Bobby Wahl took to the pitching mound at Robinson Secondary School Wednesday, May 27 for the Northern Region semifinals, both authored the did-you-see-that performances that their respective baseball teams have come to expect.
Derner shut out Concorde District champion Westfield for the first and only time this season, holding the Bulldogs to four hits and three walks while also striking out six. Because of Derner's gem, Lake Braddock snatched a 3-0 win and reached the region title game for the third time in the past four seasons.
Not to be outdone, Wahl tossed nine innings of one-run ball in the nightcap, limiting Chantilly to five hits. Wahl also recorded 14 strikeouts during the 2-1 win, which was capped by Andy Stallings' walk-off double that scored Richie McMahon from first base.
But what happened three days later proved why Wahl's Spartans were able to capture their first Northern Region title since 1998 and Lake Braddock was unable to replicate last year's region crown. West Springfield had another ace in the hole. The Bruins had extinguished theirs.
"I think we're always set up well pitching-wise," said Clemson-bound senior Mike Kent, who answered Wahl (Ole Miss) with a complete-game victory in Saturday afternoon's region final at Madison High School. Kent scattered five hits and struck out seven during his team's 11-1 win.
By topping its district rival, West Springfield (23-4) won its seventh region title and advanced to Tuesday's Virginia AAA quarterfinal round. With Wahl's complete-game performance during a 10-5 win over Deep Run, the cycle of regular rest for the team's pitching staff continued.
"Whenever you can get a complete game," said West Springfield Coach John James, "that bodes well for the remainder of the tournament."
<b>LAKE BRADDOCK</b> surprised many with its run to the region final this spring. Some of the talk centered on how the Bruins knocked off Mount Vernon and Centreville to reach the semifinals, but some of it also revolved around the statistical quirk that unfolded during that win over Westfield.
Through five-plus innings against the Bulldogs, Lake Braddock did not hit a ball out of the infield yet led, 3-0.
"We had noticed that we had gotten a few runs, and we were like, 'Oh, we haven't gotten a hit yet,'" said first baseman Bobby Klein, whose double snapped the unusual stretch.
Upsetting Westfield meant Lake Braddock would have the chance to follow last year's region final when it topped Chantilly, 9-6. But after last season, Lake Braddock lost the bulk of that team to graduation, leaving Derner (George Washington), shortstop Ryan Lindemuth and third baseman Kenny Towns as the few remaining with any big-game experience.
Jody Rutherford, Lake Braddock's seventh-year coach, arrived at Saturday's contest knowing that his team had played several close games with West Springfield over the past few years. He realized, though, that most of those players were not around any longer and that his starting lineup Saturday consisted of four sophomores, five juniors and a senior.
"I came in thinking we have been able to be successful for the last couple years, winning regional championships, but these guys haven't," said Rutherford, whose team concluded its season with a 4-0 loss to Hanover on Tuesday. "So playing [West] Springfield, I think they had the combination of wanting to beat them and playing in a regional championship game. That's just a lot of pressure for 15- and 16-year-olds."
<b>KENT WAS</b> his usual self Saturday, blowing 90-mile-an-hour fastballs past the hitters he faced and buckling knees with his assortment of breaking pitches. But West Springfield's offense gave Kent something he had been denied recently: a breather.
With two runners aboard in the bottom of the first inning, catcher Tucker Tobin roped a home run to right field and gave West Springfield a much-needed, four-run cushion. Tobin, by his own admission, had been struggling at the plate and took a simple approach Saturday.
"I just went up there looking for something I could drive, not trying to think too much," said Tobin, who hit a grand slam Tuesday and now has two home runs and eight RBIs in his past two contests. "I've been thinking too much about hitting the ball instead of just going up there and doing it."
After tacking on a single run in the second and fourth innings, West Springfield exploded with a five-run sixth, pushing the game out of reach and allowing everyone to relax a little. In addition to Tobin, designated hitter David Pyon went 2-for-3 with three RBIs.
With Wahl's complete-game effort on Tuesday, Kent will be fully rested and ready for Friday's state semifinal matchup with Menchville or Stafford, who met Wednesday afternoon after this edition went to press.
"It's just the way our staff works come playoff time," Kent said. "We have pitchers behind me and Bobby, but when it comes for that time, Bobby and I come out there in crunch time when we need to get it done for our team."