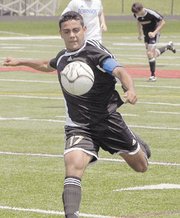 Even one of the game officials had been caught up in the moment. When Westfield's Sean Murnane finished a rebound from in front with eight seconds left in the fourth overtime of his soccer team's 1-0 win over Cosby Tuesday night, the Bulldogs' bench emptied and a wild celebration erupted.
And after Murnane scored, that official tried frantically to clear the field so Cosby could regain control of the ball at midfield, as if the Titans had some sort of five-second magic saved up for this exact time.
One problem: The fourth overtime in high school soccer means sudden death; only the first two periods are played in their entirety. Game over. Westfield had advanced.
"It was definitely one of the greatest games that I've ever been involved in," said Westfield coach Tom Torres. "It was insane for 100 minutes. It was crazy."
With the win, Westfield improved to 16-3 on the season and will advance to Friday's Virginia AAA semifinal round -- at home. Playing on their home field, the Bulldogs will face Frank W. Cox at 8 p.m.
<b>THE WIN,</b> though impressive, might've come at a cost. As he picked up a pass from teammate Irvin Herrera late in the fourth overtime, Murnane fired a shot and hit the right post. And as the ball caromed off the post to Murnane's left, he chased it down and regained control.
Another problem: As Murnane moved, a Cosby defender ran into the side of his right knee. Though he was able to continue -- later chalking it up to a sudden adrenaline rush -- Murnane hurried after the game to ice his knee, which has never caused him significant trouble in the past.
If Murnane, who had an MRI late Wednesday, cannot play, Torres may be forced to face Frank W. Cox (19-2-1) without his team's leading scorer, who has 23 goals and 11 assists this season.
"All you can do is hope," said Torres, who said that because Cosby plays a system with four defenders, five midfielders and one forward, he very well may do the same if Murnane can't play, moving Herrera (18 goals, 18 assists) up top.
Murnane nearly eliminated the need for overtime altogether against Cosby. Eleven minutes into the second half, he fired a blistering shot at Cosby's goalkeeper, who, despite leaning the opposite way, was able to get the tip of his hand on the shot and deflect it away.
"I think we just kinda wore them down," Torres said. "We just constantly pressured them."
<b>WESTFIELD'S WIN</b> also punched a ticket home. Torres said that ever since last season, a primary goal for his team has been to still be playing soccer when the state playoffs shifted back to Westfield for the annual Spring Jubilee.