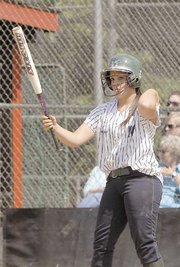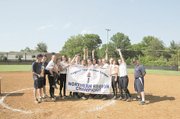 South County senior shortstop Meaghan Hunt is not known as a power hitter by any stretch. She hit exactly one home run in each of her first three seasons on the Stallions' roster and mustered the fourth of her career earlier this season at a tournament in Myrtle Beach.
On Saturday afternoon, May 30, however, Hunt proved that she has plenty of power on reserve. She just needed to find the right time to use it.
Facing Centreville in the Northern Region softball final at Madison High School, Hunt displayed some of that hitting prowess. She broke a scoreless tie in the top of the fourth inning with a towering solo home run to right field, which cleared the fence and collided with a second, tree-lined fence that signifies the end of school property.
Two innings later and with the game knotted at one run apiece, Hunt smashed a double off of Centreville pitcher Jess Ferrick to deep center field that fell just a few feet short of another round-tripper. The hit knocked in two runs, which proved to be the decisive ones in the Stallions' 3-1 victory. It was South County's first region softball title in school history.
"I couldn't really tell if it was a fastball, to be honest with you," said Hunt, when asked what she saw in the pitch that cleared the park. "I just saw it come right up the middle of the plate and had to go for it."
With the win, South County (27-1) advanced to the Virginia AAA quarterfinals. Facing Central Region runner-up Atlee on Tuesday, South County pulled out a 2-1 win.
For the record, the pitch Hunt saw was a fastball. A high one. Had she not swung, chances are the umpire would have called it a ball. But the left-handed hitter turned on the pitch and sent the grapefruit-sized sphere for quite a ride.
Hunt joked that when she stepped in the batter's box in the fourth inning, she "was looking for another home run so I could top my season record, which is one." Cross that one off the list.
"That was a big home run in the fourth inning," South County Coach Al Thompson said. "Usually, once we get one, the game's pretty much over. But not tonight. [Centreville] answered properly for a championship team. They didn't quit, they put one in to tie it up. Just what they needed. They made it a game, just what we wanted."
Centreville evened the score in the bottom half of the fourth, courtesy of a Cara Donovan sacrifice that plated Ferrick. After a scoreless fifth inning, Hunt once again found herself at the plate in another clutch situation.
<b>WITH TWO OUTS</b> and runners at first and second in the top of the sixth, Hunt dug her feet in, put the bat on her shoulder and stared out at Ferrick. A wild pitch that bounced short of catcher Victoria Marvin allowed both runners, Kayla Reisinger at first and Stephanie Sbardella at second, to each advance one base. Two pitches later, Hunt blasted another fastball to the fence to score the go-ahead runs.
It didn't matter that Hunt was thrown out at home on the next at-bat, a single to center on which she tried to score. The damage had been done. It was now up to starting pitcher Chelsey Dunham, the Northern Region Pitcher of the Year, to keep her composure, throw strikes and record six outs.
Again, consider that done.
"Chelsey is obviously a fabulous pitcher," said Thompson of his hurler, who finished with eight strikeouts and displaced five hits. "But like any other pitcher she can get hit. And she knows that, it doesn't fluster her. They hit us really well, McLean hit us really well, but we've got great defense. She bears down, tells them what to do, takes over as the team leader."
Centreville had two runners on in the home half of the sixth with one out, but Dunham ended the threat with a strikeout of Donovan and a fly out by Courtney Burke. In the seventh, it was three up, three down for the Wildcats. Two lineouts and a pop out sealed the region title for South County.
The game was billed as a pitching duel that would pit Ferrick against Dunham. Although only four total runs were scored, it was a far cry from being dominated by the players standing on the rubber 43 feet away from home plate. The teams combined for 13 hits and only 11 strikeouts were recorded.