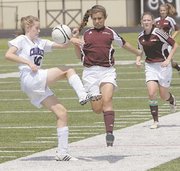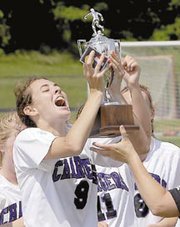 Kristen Melchiori insists that there's nothing special about what she does on the soccer field. And if her performances this postseason were viewed one-by-one through, say, a camera lens or something narrow enough to obscure your view of the scoreboard -- or a monthly calendar, for that matter -- Melchiori would be correct.
But for anyone who has followed the Chantilly girls' soccer team enough this season to realize exactly when Melchiori chooses to score the bulk of her goals, the talented senior midfielder would be as wrong as she has been clutch this postseason for the Chargers. In the past two postseasons, Melchiori has now scored eight goals and has one assist.
Following her team's Concorde District title game victory over Robinson on May 15 -- where the Chargers could've easily had a letdown -- Melchiori ensured a 2-1 win over Madison by notching both of her team's goals.
And in the Northern Region final last Saturday afternoon at Madison High School, Melchiori scored the only goal necessary as the Chargers topped Oakton, 1-0, capturing the program's first-ever region trophy.
"I've been playing soccer since I was 4 years old, so I've spent my whole life playing in big games," said Melchiori, who'll play soccer this fall at Lynchburg. "But it's just what I do. I'm calm about it because I just want to help my team out. It's not a big deal for me to go into big games. I don't get nervous."
Melchiori's goal-scoring prowess lifted Chantilly into Tuesday's Virginia AAA state quarterfinal matchup with Atlee, where the Chargers earned a 1-0 win. With the victory, Chantilly improved to 16-2-1 on the season and will now face the winner of Wednesday afternoon's Riverbend/Kempsville game at 2 p.m. Friday for the state semifinals at Westfield High School.
<b>MELCHIORI'S GOALS</b> have been timely, but the one thing they haven't always been is pretty. While some players will pass, pass and pass again, hopefully to find that highlight-reel goal, Melchiori carries a simple philosophy.
"Any goal that you score, it doesn't matter how you do it," she said. "No matter what way you can, taking more shots is better than not taking a shot at all. If it's a bad shot and it goes in then that's good for your team."
With that realization, Melchiori does all she can to finish her teammates' passes. Whether it's with her head, foot or knee, Melchiori has consistently found ways to contort herself just enough to somehow strike the ball -- or at least tip it enough to beat the opponent's goalkeeper.
Melchiori excels "in closer situations where you try to finesse the play and place the ball, rather than trying to crush the ball," Chantilly coach Melissa Bibbee said. "She has a knack for being in the right place at the right time. And she finishes."
While Chantilly finds itself on a never-before-seen journey this season, Melchiori said that her favorite moment came last spring when she scored the game-winning goal during a Northern Region quarterfinal victory over South County, giving the Chargers a 2-1 win in four overtimes.
In the 43rd minute of this year's region title game -- delayed from Friday evening until Saturday afternoon because of rain -- Melchiori took a pass from Olivia Colella at the top left-hand corner of the six-yard box. Without hesitation, Melchiori took a drop-step to her right and fired a left-footed shot past Oakton's goalkeeper. The goal was Melchiori's 12th this season and fourth of the postseason.
"Most of her goals have not been powerful," Bibbee said. "They've been finishes -- either inside the 18-yard box or inside the six. Most kids think that they have to shoot the ball with a proper soccer technique, and she just does what she needs to do to put the ball in the back of the net. You can't find many players like that."