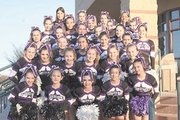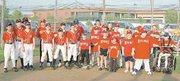 <b>Under the Lights</b>
On Friday, May 15, the Chantilly/Southwestern Youth Association Little League Challenger baseball team -- the Nationals -- teamed up with the U-12 Chantilly Raiders for a fantastic night of food and baseball under the lights at Chantilly Park. The evening started with a dinner buffet donated by Red Hot'n Blue, CiCi's Pizza and Moe's Southwest Grill.
The families then packed the stands and cheered while the excited Challenger squad took the field, batted and ran the bases. The Raiders, meanwhile, helped out in the field, the dugouts and at the plate, encouraging, cheering and coaching along the way. For more information on Chantilly/SYA Challenger baseball, contact head coach Sean Fitzsimmons at s.fitzp@verizon.net.
The Chantilly Raiders include Evan Baker, Cameron Cardinal, Parker Crenshaw, Wesley Coleman, Brett Dschuhan, Mick Glakas, Kordell Hutzell, Jacob LaFlamme, Zack Perine, Ryne Siesky, Ryan Trzaskoma and Matt Ventrelli. The Challenger team includes Meredith Cripe, Hailey Fitzsimmons, Jacob Franchi, Bradley Hatfield, Jenny Lord, Griffin Nameroff, Michael Rivera, Andrew Cope, Jessica Dempsey, Amy Feuerberg, Joey Komisarcik, Tyler Pizzo, Thomas Rumanes, David Updike, Chris Ward and Jamie Whitaker, as well as assistant coaches Patrick Fedor and David Mears and head coach Sean Fitzsimmons.
<b>Something to Cheer</b>
The Chantilly Youth Association's Cheer Select program ended its season by pulling off a sweep at The U.S. Finals Cheer and Dance Competition. Together, the four teams feature nearly 100 young female athletes, ages 5 to 13. These athletes had to earn a bid to compete in this competition, which is based upon their top-level performance during regional qualifying competitions throughout the season. Four CYA teams finished first, including the U-6 Cheer Select Sparkle (Intermediate Tiny Rec), the U-8 Cheer Select Spirit (Intermediate), the U-12 Cheer Select Power (Intermediate Youth Rec) and the U-14 Cheer Select Force (Intermediate Junior Rec). The Force squad was also named the overall winner for all school and recreational teams. For more information on Cheer Select, visit the www.cheerselect.com.
<b>Summer Camp</b>
Fit Kids and Chesterbrook Academy Elementary School in Chantilly will host a gymnastics camp on July 20-24 for kids ages 4-8. Campers will have fun learning some basic flips, rolls and cartwheels during this camp. Self confidence and coordination will improve while learning some new tricks. Call 703-397-0555 to register.
<b>Basketball Camps</b>
The Chantilly boys' basketball program will hold four consecutive weeks of basketball camps starting July 6 for boys ages 8 through 15. Cost is $150 and the sessions will be held at Chantilly High School. For more information, call head coach Jim Smith at 703-222-6306 or visit the Chantilly athletics Web site at www.chantillysports.org.
<bt>The Westfield Athletic Booster Club will hold two sessions of girls' basketball camp during June and July, with the first session running from June 22-26 (Elite Camp, ages 10-15) and July 6-10 (ages 8-15). Both camps will run from 8:30 a.m. until 2:30 p.m. Cost is $140. The staff will consist of head coach Pat Deegan and assistant coach Alice Andersen, as well as current college and high school players. For more information or for applications, contact coach Deegan at patrick.deegan@fcps.edu or 703-488-6363 (Ext. 7201).
The Westfield boys' basketball program will hold a series of four camps throughout the end of June and all of July. The first four-day session runs from June 29 through July 3; the second runs from July 13-17; the third from July 20-24; the fourth from July 27-31. For more information, contact Doug Ewell at 703-488-6406 or via email at douglas.ewell@fcps.edu.
<b>Soccer Tryouts</b>
The Chantilly Electrics, a rising girls' U-18 WAGS Division I soccer team, is seeking a few skilled, technical players and an additional goalie for the fall season. The Electrics are coached by Mark Corey, who brings over 16 years of coaching experience with Division I teams. Players interested in working out with the team in June that are born on or after Aug. 1, 1991 can contact coach Corey at 703-819-1052 or Mark at mcorey@cox.net.
Three Chantilly Youth Association Freedom 98 WAGS/ODSL travel soccer teams need female players for the fall U-11 season. One ODSL and two WAGS stratified teams will offer fundamental skills to advanced play. The teams are professionally trained by Soccer Performance International (SPI) and open tryouts are scheduled for June 15 and 17 at Word of Grace. For more information, contact Adam Baumgardner at abaumgardner@spisoccer.com.
The Chantilly SC Fusion, a rising girls' U-12 ODSL Division I travel soccer team, will hold a series of open training sessions throughout the month of June, and the team is currently looking for players at all positions to fill out its roster. The goals of the Fusion are to strive for player enjoyment, concentrate on core skill development and to build a competitive team. In addition to the ODSL schedule, the Fusion competes in a minimum of three tournaments per year and trains indoors during the winter. For more information on joining the Fusion, contact coach Jarl Bliss at BLISS@lpsi.com or 703-282-5008.