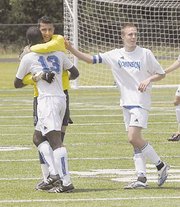 Alex Makumbi found Samir Badr just to the left of where Badr surprised himself and anyone watching on Saturday afternoon, May 30, at Madison High School. With an ear-to-ear smile, Makumbi put his arms around Badr and the two began to yell. They had something to celebrate.
Although Makumbi's goal in the 50th minute of the Robinson boys' soccer team's title match with Westfield would give the Rams all the offense they would need, Badr's goal required more attention. Not only did it come from 68 yards out on a free kick, it came from the team's goalkeeper.
"You never expect that to happen," said Robinson coach Jac Cicala, whose team pulled off a 3-0 victory over Westfield. Robinson, however, unexpectedly dropped its Virginia AAA state quarterfinal game against Mills Godwin Tuesday, losing 1-0 on penalty kicks.
But Cicala's team was able to enjoy its end-of-the-season success because of Makumbi and Badr, two players with entirely different responsibilities who somehow converged to accomplish the exact same thing. It was even something they had talked about prior to the game, too.
Because Saturday's game was played as a continuation of a rainout on Friday night -- started with 15 minutes, 58 seconds left in the first half -- Robinson's players drove themselves to Madison instead of taking a bus.
During that trip, Makumbi sent a text message to Badr, telling him that he was going to score an important goal in only a matter of hours. Badr, though not serious, sent a message back to Makumbi telling him he was wrong. If his team needed a key goal, Badr was getting it.
<b>MAYBE THE</b> two exchanged a few text messages before the postseason started. In the Concorde District title game, Makumbi scored the Rams' lone goal during a 1-0 win over Centreville on May 15. Badr, a U-17 national pool team player, has provided the Rams with a clean sheet during every one of his starts this season.
"We bring a lot of heart, a lot of determination and a lot of fight," Badr said. "We care a lot of making a difference. We care a lot about shining. In the finals, I think it's important that guys step up, and I think me and 'Koko' are the quality that can."
Early in the second half against Westfield, Makumbi corralled a pass a few yards away from the top of the 18-yard box. After turning, he saw that there wasn't a Westfield defender to be found. So Makumbi took a few steps forward and fired a shot past the goalkeeper, Kody Palmer. Badr's goal would come nearly seven minutes later and senior defender Jimmy Brewer converted a penalty kick in the game's 65th minute.
"The ball was in the air, and I trapped it," Makumbi said of his goal. "I guess the defenders got confused, so I just kept on going straight."
"It was a breakdown in our game plan," said Westfield Coach Tom Torres. "We were supposed to have someone tight on Koko and someone covering five yards."
<b>IT WAS</b> at this point that Robinson could've relaxed, realizing that Makumbi's marker, combined with Badr's goalkeeping, probably would have been enough. In 11 contests since a 3-2 win over Herndon on April 23, Robinson held its opponent scoreless during regulation play, a stat undoubtedly attributable to Badr's presence.
Makumbi, meanwhile, has etched his name on a few stat sheets and on some he has not. But his contributions throughout the postseason were essential nonetheless. Cicala, in his second year at Robinson, credited Makumbi not only for his scoring touch but for the trickle-down effect that his presence has on the rest of the Rams' offense.
"He's so strong," Cicala said. "He creates problems for defenses. You have to respect him because you can't let him go. He might not have the stats that a [Westfield senior] Sean Murnane has, but he creates problems."
Problems struck for Robinson (15-2-2) and Westfield at 4:48 p.m. Friday. After play was halted because of rain for 26 minutes, the two teams stepped back on the field to resume the region title game at 5:14 p.m. But 39 seconds of clock time later, the game was called for the evening and restarted Saturday at noon.
"Those are the type of things that we can't control," Badr said of restarting a day later. "What happens with the weather, we can't really control that. We knew that the game was going to be played, and we knew we had to have the right mindset to go into it."